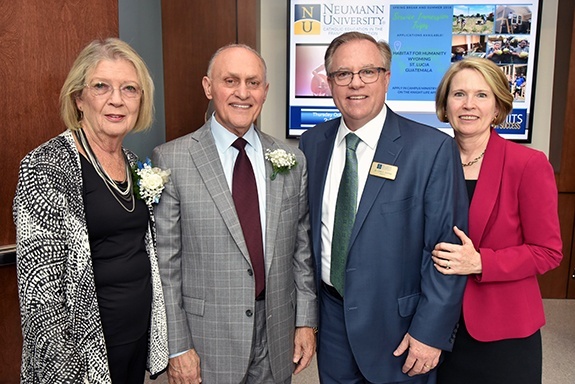 Brian Schaller told a crowd of approximately 130 Neumann students, faculty and guests that, at Wawa, culture trumps strategy. The company mission is to create "happier and stronger communities by building lasting relationships" with people who visit their stores. The hoagies, coffee and candy bars are simply the means to a larger end.
Schaller was speaking on October 5, delivering the second annual Rocco A. '79 and Mary F. Abessinio Division of Business Endowed Chair in Management and Entrepreneurship Lecture in the John J. Mullen Communication Center. Schaller is the chief fuel and real estate officer for Wawa, Inc.
The core values of the Quaker-based company include delighting customers, embracing change, and doing the right thing. It is these values, said Schaller, that build the close relationships and fulfill the mission. He also pointed out that the friendly and supportive Wawa reputation must be built over a long period of time because the length of an average visit to a Wawa store is just three minutes and 47 seconds.
Of course, the company does not ignore strategy. Its plans include investigating delivery options and expanding into the Washington, D.C., market.
Wawa was founded in 1964 (one year before Neumann) and now has approximately 760 locations and more than 29,000 employees. Schaller noted that there are 96 Neumann University alumni or current students who are Wawa employees or interns.
Rocco Abessinio and his wife Mary funded the Abessinio Lecture through their family foundation with the intention of bringing to campus each year a recognized professional with expertise in management and entrepreneurship.
In addition to funding the lecture, the Abessinio family foundation also established an annual scholarship for a Division of Business student who has exemplified excellence in management and entrepreneurial understanding and application.