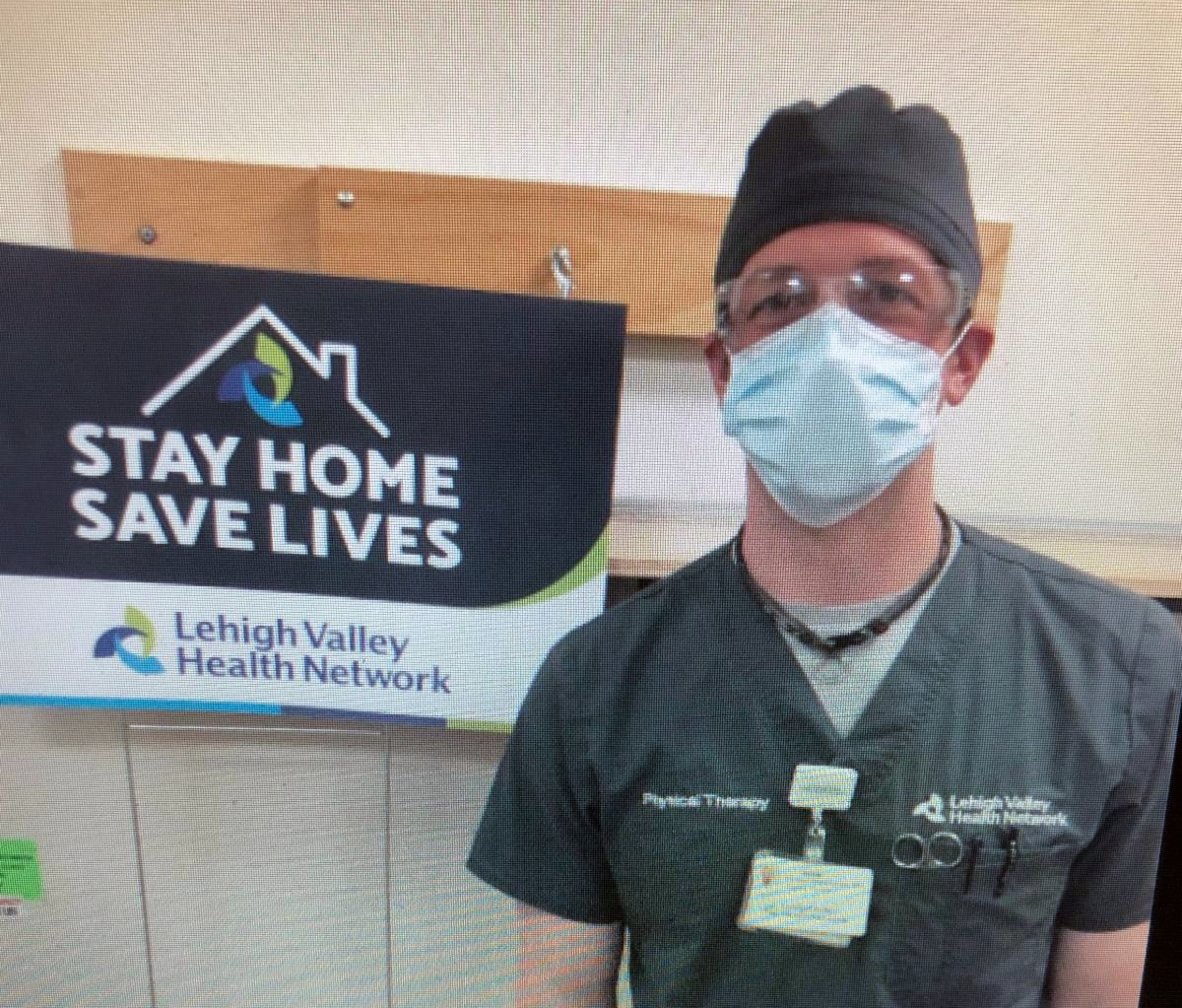 The coronavirus has permeated all areas of health care and affected everyone working in the field, including Neumann University DPT (Doctor of Physical Therapy) alumni. This dedicated group of health care professionals are still showing up every day working in hospitals, nursing homes, and rehabilitation centers.
T.J. Shaughnessy '12 works as a wound care therapist at Leigh Valley Health Network's main hospital at the Cedar Crest Campus in Allentown, PA. In addition to working with patients needing wound care, Shaughnessy also assists in the burn, trauma ICU and med/surg units when needed.
According to Shaughnessy, his hospital had 86 COVID-19 patients (which is about 1 in every 4 inpatients) as of April 15. Approximately 30 of these patients were on ventilators in the ICU. He sees these patients for "proning" protocol which he and his team have implemented for all of the COVID-19 positive patients. This requires getting the patient prone (lying flat, face down) to improve breathing and oxygen saturation on a schedule during the day. This protocol is showing great success with the patients.
"The biggest challenges that we are facing during this pandemic is obviously a shortage of PPE on the acute care side. Another challenge that we have to navigate is the constant barrage of new information and new guidelines on how to properly protect yourself while still conserving PPE that we do have," he explained.
Like many health care workers, Shaughnessy is experiencing increased anxiety. He is now working 12-hour shifts and going home to his family. His wife is working from home trying to balance her job responsibilities and entertaining their two-year-old daughter. There is little time to rest for either of them. ​​​​​​​
"On one hand, I am lucky to continue to have a job and paycheck through all of this; however, it is a job that constantly exposes me to illness. I am constantly worried about bringing this virus home to my wife and daughter," said Shaughnessy.
Rob Morris '04 is working at a skilled nursing/long-term care facility in Warminster, PA. He finds social distancing to be the biggest challenge in treating patients during the pandemic.
"Social distancing in this type of facility is highly difficult, really impossible, because so many of the folks need physical assistance. Also, many of our long-term care residents are used to walking around the hallways and throughout the building," Morris said. "It is difficult to find ways to explain to them that they cannot walk around freely now as they are used to."
Morris is finding solace in the way his fellow co-workers have come together during the pandemic. Much of his typical therapy services have been put on hold so that the therapists can assist the nursing staff with patient care. Now he regularly delivers meal trays, feeding those who cannot feed themselves, and helping the residents with personal care needs.
"These are trying times to say the least, but I try to follow all the necessary precautions as best I can, wearing PPE, hand washing, and social distancing. I think keeping in mind the reason we are here, to try to provide the best care we can for as long as we can, and to do the best we can for people's safety and well-being, was a driving factor for me in facing the challenges," said Morris.