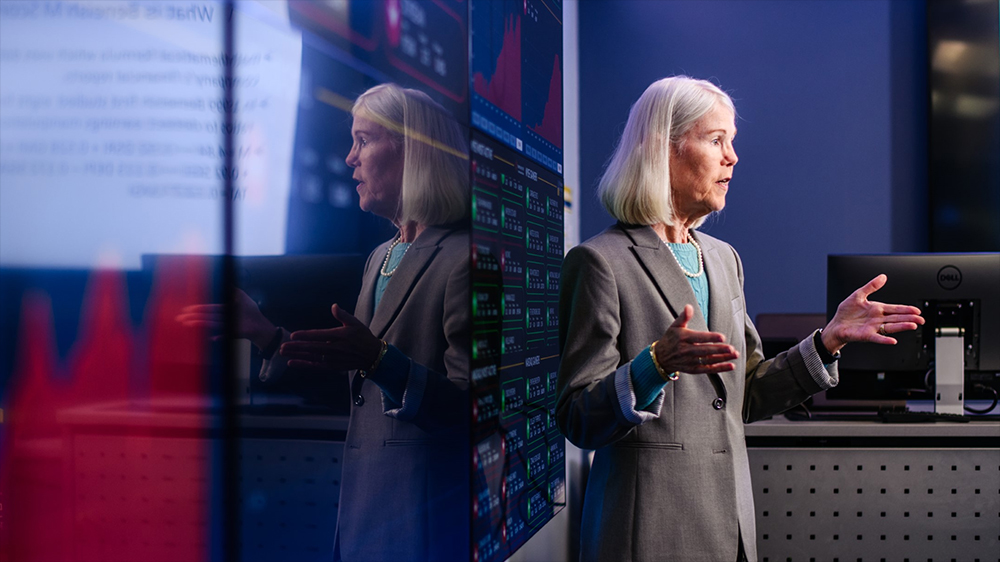 As Dr. Janet Massey tells it, she found her home 35 years ago when she said goodbye to the CPA world and stepped into the world of higher education at Neumann College. Throughout the next three decades, Massey watched a small college evolve into a thriving university, and she couldn't be prouder of the part she has played in this transformation.
The year was 1988, and Massey was working as a CPA in an accounting firm while raising her four-year-old daughter with her husband, Joe. Each year around tax season, Massey remembers the struggles she would encounter being a mom and a tax accountant.
Massey knew she needed to make a career change, and so did her husband. He was the one that saw an advertisement in the newspaper for an Accounting professor at Neumann and sent in her resume. She continually thanks him for pointing her in the direction of a university that would become her second home.
"I was in public accounting, and during tax season, I would literally leave the house on a Monday and not see my daughter until Sunday afternoon. I was saddened by this, and my husband told me that I needed a change in career. I loved public accounting, but I had a four-year-old and a different perspective on life," Massey explained.
Massey interviewed with former provost Rich Nigro and Sister Margarella O'Neill, Neumann's president at the time. Massey was hired to build an Accounting major.
"I developed the courses in the Accounting program and have taught every course. I loved teaching. Even though I came from public accounting, I was used to teaching the juniors in the firm, but I had never taught at the college level," she said.
Massey remembers coming to campus for the first time and being greeted by friendly people at every turn and a spotless college environment.
Massey has always felt supported by Neumann University. She has made lasting friendships with her students (even being asked to be a bridesmaid in one student's wedding – which she happily obliged). The Neumann community rallied around her when she was diagnosed with breast cancer in 2001.
For ten years, the university held the Massey Breast Cancer 5K, which raised funds for the Janet Massey Breast Cancer Scholarship. The scholarship is for caregivers or anyone affiliated with someone who has had breast cancer. Through the years, this scholarship has raised $75,000.
Having been embraced by the Neumann community from the first day she stepped on campus is something Massey never takes for granted.
"It was like God's hand drawing me to Neumann. It was just amazing the way that it happened. I guess I left public accounting, which was very lucrative, because I was looking for a home, and I found one at Neumann," she said. "I felt the camaraderie with the sisters and the students, and it was home. And I plan on staying as long as the students think I'm doing a good job."