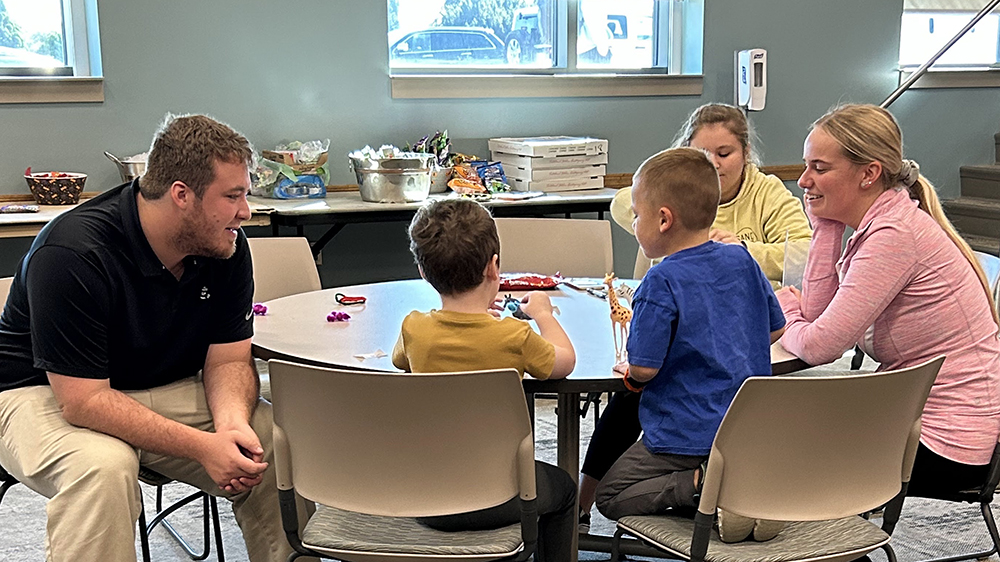 Neumann University students, specifically Education majors, are fortunate to have the Child Development Center (CDC) on campus. Students in Dr. Laura McLaughlin's math methods course realized this firsthand when they spent time with the CDC students teaching basic math skills on October 14.
McLaughlin has had students partner with the CDC students for learning activities throughout the years. Unfortunately, COVID put this partnership on hold for the past three years. CDC director John Sperduto was on board with this collaboration and supported the experience.
McLaughlin built this service-learning project into the course to give her students the opportunity for hands-on teaching experience and as a way to give back to the NU community.
The CDC students were divided into groups and spent time at three stations: Math Measurements, Algebraic Reasoning, and Geometry. Each station was staffed by three Neumann students who had developed the lesson, and activity, around the particular theme.
"For Algebraic Reasoning, they had things like patterns and the putting two things together with three things, basically the beginning of adding and subtraction skills," McLaughlin explained.
Another aspect of this exercise for the NU students is learning to be resourceful as a teacher. Many schools do not have the budgets to fund math and science projects, so teachers learn to compromise and use items they can easily find in their homes. One NU student created a homemade scale from a coat hanger and had the children guess which items would weigh more than others.
"One thing I tell my students is that you're not allowed to have a worksheet. Everything they do with the children has to be creative and hands-on fun," said McLaughlin.
It was hard to tell who was more excited to participate in this learning/teaching session – the NU students or the CDC students. After weeks of planning the math activity, McLaughlin's students were ready to take their lesson to the preschoolers.
"My group's lesson was about shapes, so my activity was having the children glue pom-poms around an outline of a (geometric) shape. The students were excited to do this lesson, and they said that they already knew how (glue) which made them eager to participate," said junior Education major Santina Talotta.
Senior Emilie Repici developed an activity for the Math Measurement lesson. "I had string, and I measured from their head to their toes. I would cut that to the length of the students and place a name tag on the string. All the students were amazed at how long their string was. Anytime you get to work hands-on, it is always remarkable."
"One of my favorite things is getting the CDC children with my students because many haven't had these concrete experiences. We can plan all we want and talk about teaching math as much as we want, but it's not the same as having children in front of you," McLaughlin said. She complimented her students for doing an "amazing job." The NU and CDC students will meet again on November 11 for another round of learning and teaching.