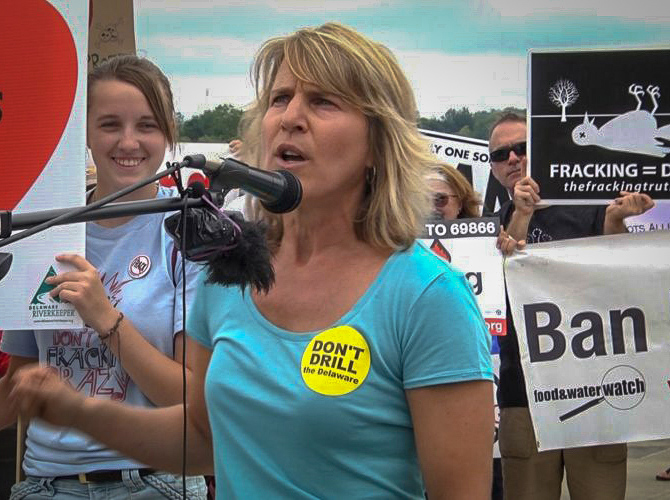 Maya van Rossum, an outspoken environmental activist, will speak about the national Green Amendment Movement on Tuesday, December 3, at 1 p.m. in the McNichol Art Gallery. The movement, which she founded, focuses on state-level legal efforts to guarantee Americans clean air, water and food.
van Rossum is the author of The Green Amendment, the leader of the Delaware Riverkeeper Network, an environmental attorney, and a community organizer.
She believes that, for decades, communities have relied on federal and state laws to ensure protection of a clean environment while, in fact, our laws are designed to accommodate pollution as much as to prevent it.
"Despite the benefits of clean energy, fossil fuel companies and the people who profit from them are incredibly powerful, both politically and financially. As a result, our laws are written to advance dirty energy and impede clean energy solutions," says van Rossum.
The impact, she argues, is that people feel powerless when it comes to preserving the quality of their water, air, public parks, and natural spaces. Her solution for achieving better protection of our environment is to turn to the ultimate authority -- our state and federal constitutions.
"We all have the right to pure water, clean air, and a healthy environment," she says. "My presentation will focus on how to truly secure that right for our own sake and that of future generations."
She has led the Delaware Riverkeeper Network, which works in the four states of the Delaware River watershed (NY, NJ, PA and DE), for 25 years. She was appointed to New Jersey Governor Phil Murphy's transition committee on environment and energy, was named one of the "10 Most Influential People of 2015" by SNL Energy, and has testified twice before U.S. Congressional committees.
Her book, The Green Amendment: Securing Our Right to a Healthy Environment, was selected as the 2018 Living Now Evergreen Awards GOLD Winner in the Nature Conservation category. Since launching the Green Amendments Movement, constitutional amendments have been proposed in New York, New Jersey, Maryland and West Virginia.