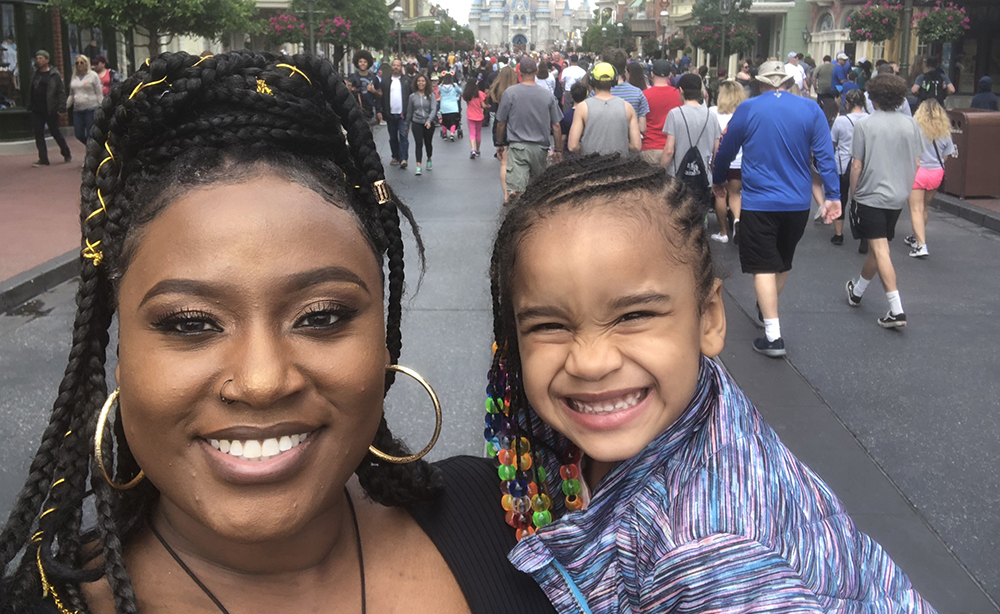 Senior liberal arts major Ericka Smith-Sowell took a leap of faith toward a better life and is now paying it forward. She is in the process of setting up a non-profit organization called "People Gotta Eat" which will do exactly that – feed the homeless.
No stranger to hardship, Smith-Sowell had to drop out of college and once faced a brief period of homelessness herself.
Now looking forward to graduating in December, she started at Neumann University in 2012. Her original plans were to graduate in 2016, but her life was turning in a different direction and she had to put college on hold.
When she was originally enrolled at NU, Smith-Sowell was working two jobs, playing basketball for Neumann and caring for her two-year-old daughter Angel-Jay.
"I just got really overwhelmed with my life and I had to withdraw from all of my classes." said Smith-Sowell. "I needed to figure out how to make a change," she said.
The change that Smith-Sowell sought was a drastic one and had her moving to Atlanta, Georgia. Struggles continued for her and she found herself being homeless. She reached out to her great aunt who lives in Georgia and moved in with her for three months.
Smith-Sowell persevered and landed a job at a law firm, bought a car and moved into her own apartment.
"I decided to move to Georgia, and it has been the best decision of my life." Smith-Sowell said.
Returning to college, specifically Neumann University, became a clear path to success for Smith-Sowell. She re-enrolled and is now continuing her college education virtually.
"My mindset changed. I realized that I needed to go back to school to get the life I wanted," explained Smith-Sowell.
Smith-Sowell is the type of person who likes to have her plate full. Being a single parent, going back to college and working a full-time job was not enough. She decided it was time to give back and she started, with the help of her daughter, cooking monthly meals for the homeless.
Back in February, this cooking duo made 50 dinners that they passed out to people living in downtown Atlanta. The need is so great that she is now cooking and delivering 100 dinners once a month.
"I try to make fancy stuff because I want them to feel special and I don't want them to feel forgotten," she said.
Smith-Sowell enjoys cooking, and these dinners are made with love. Her menus often include bar-b-que chicken, baked macaroni and cheese and collard greens. She now delivers these meals on the fourth Sunday of every month with the help of friends.
Smith-Sowell's grassroots outreach has expanded, and she is now putting together care packages and distributing donated clothing items to people in need. She is tremendously grateful to her boss, who has become a mentor and whose family has donated money and clothing to help keep Smith-Sowell's non-profit going strong.
"God has put me in a place where I could help others. It has been a blessing and I have been able to continue doing it through COVID," Smith- Sowell said. "After I graduate, I want to go to law school. I want to defend people who can't defend themselves," she said. "I just want to continue helping people."