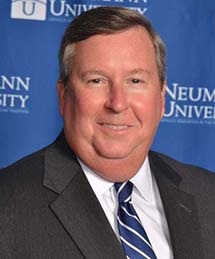 Neumann University has appointed Eugene E. (Gene) McWilliams as Vice President for Finance and Administration. McWilliams earned his Bachelor of Science degree in accounting from St. Joseph's University in Philadelphia, Pennsylvania.
McWilliams is a Certified Public Accountant (CPA) who started his career with Laventhol & Horwath in Philadelphia. He was a partner with the firm of Baker Tilly (formerly ParenteBeard, LLC/Parente Randolph) in Media and Philadelphia, Pennsylvania. Included in McWilliams's former public accounting clients are several public school districts including Upper Darby School District and Rose Tree Media School District.
After fifteen years as a CPA in public accounting, McWilliams became the CFO of Crothall Services which provided managed services for hospitals and higher education institutions. Crothall was sold to Compass in 2000. He was a co-founder, CFO, and COO of Mind Drivers, LLC, which is an entrepreneurial venture development firm in Thornton, Pennsylvania, with investments in internet startup companies. Most recently he was the CFO of Source4Teachers, in Cherry Hill, New Jersey, which provides substitute teachers and paraprofessionals in the K-12 market under managed service contracts. McWilliams, as part of the senior management team, assisted with the sale of the company in 2015 to Nautic Partners, a private equity firm in Providence, Rhode Island.
In addition to McWilliams's experience with finance, treasury management, managed services, information technology, strategic planning, budgeting and forecasting, he is a former adjunct professor of accounting at St. Joseph's University.
McWilliams is a member of several professional organizations including; American Institute of Certified Public Accountants (AICPA), Pennsylvania Institute of Certified Public Accountants (PICPA), Greater Philadelphia Senior Executives Group (GPSEG), Chester County Chamber of Business and Industry (CCCBI), Knights of Columbus, St Cornelius Council, Chadds Ford, Pennsylvania, The Benevolent and Protective Order of the Elks, North Wildwood, New Jersey, and Judge of Elections, Thornbury Township, Pennsylvania.
McWilliams, a native of North Wildwood, New Jersey, lives in West Chester, Pennsylvania, with his three children Mike, Jack, and Kyra.