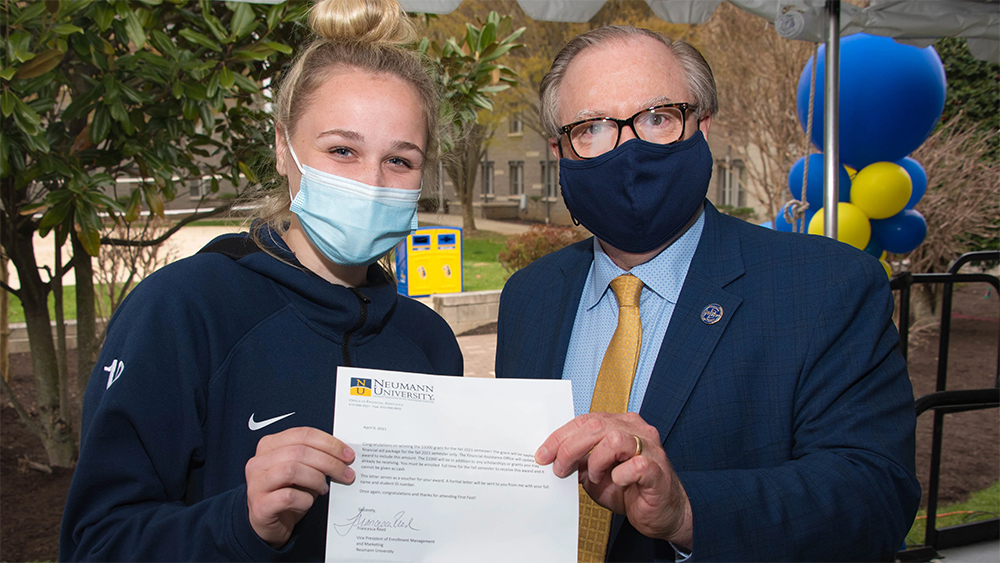 At the university's inaugural First Fest on April 9, Neumann freshmen raised a flag and buried a time capsule in the residential quad to signal their transition to a sophomore year that everyone hopes will be COVID-free.
The time capsule includes a mask, hand sanitizer, a St. Francis figurine, a Sir Francis stress ball, a printed copy of the daily health check form, pandemic-era photos and marketing materials, and messages to the future from first-year students. The notes offer personal beliefs, humor, reminders, and hopes for the years ahead. Here are a few.
Innovation, courage, and determination. Change the world and always remember to be grateful.
Be grateful for the little things in life.
You were so young when you wrote this, and I bet you didn't know everything that happened was going to happen.
Talk to Kat if you haven't.
Sheesh!
Did you stick with it?
Clear eyes, full heart, can't lose.
You better be a great lawyer when you see this.
Please stop wasting money on Disney stuff.
I love my boyfriend, my dog, and my parents.
Hello, bestie. Fill me in on your life. Are you married with kids? Are you a nurse? Are you dead?
I hope me and my team have the best four years.
Do you even remember college?
The capsule will be unearthed in 2046.
Several of the 77 students who attended walked away from the event with memorable gifts, the result of an excitement-generating raffle. Keeley Ciszkowski won a $1,000 fall tuition discount. Emily Dawson and James McDonald won $500 fall tuition discounts, and Riley Adinolfi won a $500 book voucher. Other students won AirPods, an iPad, and Neumann blankets, mugs, and sweatshirts.
Francesca Reed, vice president for enrollment management and marketing, and Dr. Chris Haug, vice president for student affairs, hope to make First Fest an annual affair.