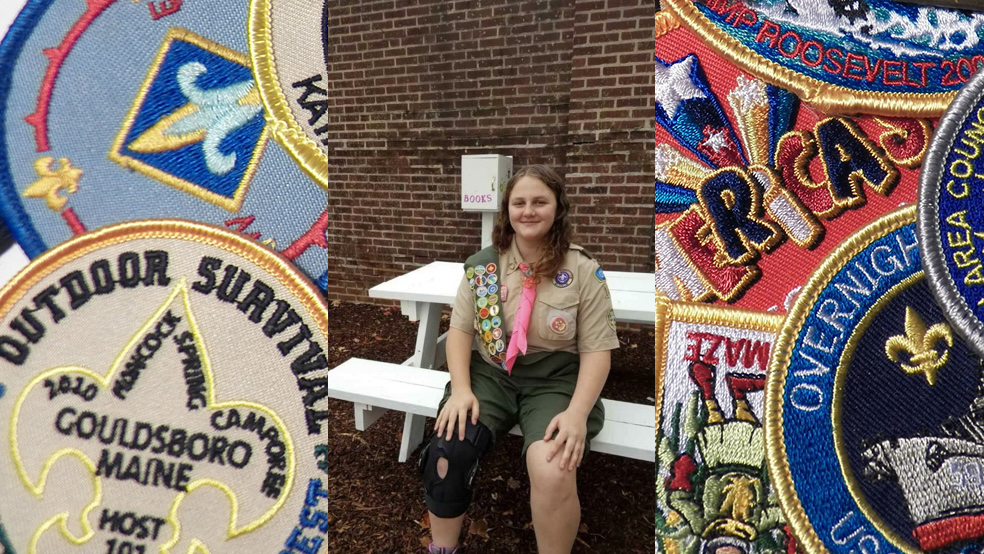 The rank of Eagle Scout within the Boy Scouts of America typically conjures up images of teenage boys. However, a female recently received this rank. She was the first to do it in the state of Pennsylvania, and she is also a first-year student at Neumann University.
Angelina (Angel) Sims achieved Eagle Scout ranking last November and was honored on May 6, 2021. Eagle Scout is the highest rank attainable in the Boy Scouts of America. Since its inception in 1911, only four percent of scouts have earned this rank.
Sims grew up surrounded by the scouting community. Her father is a Boy Scout leader, and her brothers, all six of them, are scouts. She recalls her father trying to steer her toward the Girl Scouts when she became interested in scouting, but she declined, knowing that her passion was with the Boy Scouts.
"I just never liked it. I liked what my brothers were all doing," explained Sims, a self-proclaimed tomboy.
In order to achieve the rank of Eagle Scout, Sims had to earn 21 merit badges and plan, organize, lead, and manage a service project before she turned 18. She decided to focus her project on the church where her troop had meetings, the Evangelical Lutheran Church of the Trinity in South Philadelphia.
The church houses the Trinity Academy, a pre-school and elementary school. There was an overgrown lot on the property filled with trash, tree stumps, and rocky, uneven ground.
"It was a deserted corner of the church's property, and I turned it into an outdoor learning space for the kids," Sims explained. "I wanted to help the kids that go to school there. The church was excited for me to do something outside."
The space now contains picnic tables, a library box, and level ground for the children to play.
While this was a joyous moment for Sims and her family, not everyone supported her.
"There was so much hate. People didn't think girls should be allowed [in the Boy Scouts], and they wrote letters to the church about it," Sims said. "They accused me of paper whipping, which means getting it faster. I just ignored it."
Sims is still involved with scouts and has formed an all-girl troop within the Boys Scouts. She is the assistant scoutmaster. Like Sims, most of the members have a brother in scouts and had a deep desire to join the scouts.
An early education/special education major, Sims is from Collingdale, Pennsylvania. She attended Upper Darby High School and played softball until a knee injury sidelined her during her senior year. She has been rehabbing her knee and hopes to play for the NU softball team in the spring.