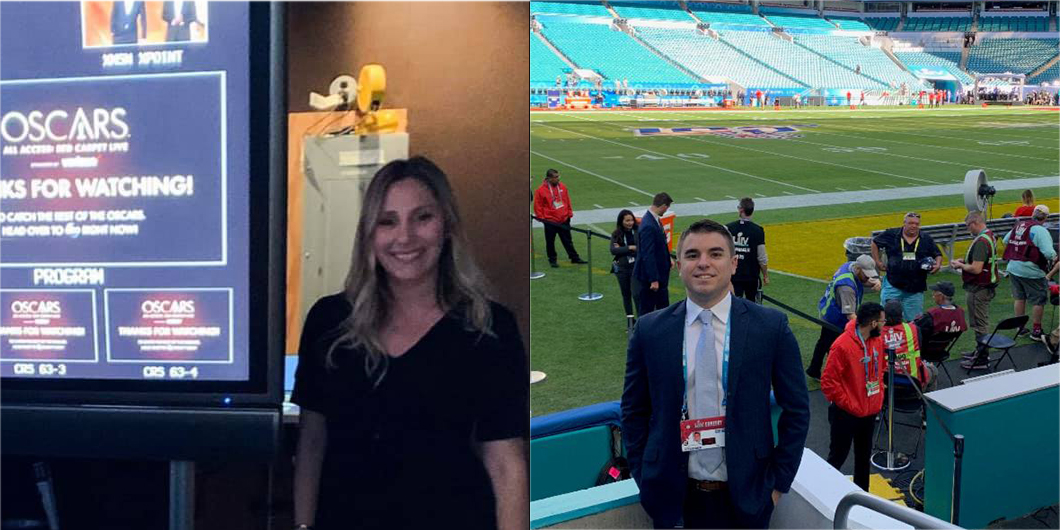 Talk about living the dream, two recent NU alums worked the biggest events of the year, Super Bowl LIV and the 92nd Academy Awards. Ryan Lee '17 and Koula Gregor '14 were behind the scenes at these events which were seen by millions of viewers around the globe.
Both Lee and Gregor are living dreams-do-come-true lives right now. They paid their dues by completing various internships in their respective fields. Lee is a sport management major and Gregor is a communication major. Both happen to also be former NU lacrosse players.
For Lee, a leap of faith landed him a job with the Miami Dolphins football team. After interning at the Wells Fargo Center and the Philadelphia Union, he was sold on a career in the sports industry. While browsing the internet for potential employers, Lee came across a job fair at the Miami Dolphins organization. He jumped on a plane and left Aston for a shot at his dream job.
"I had nothing to lose and I knew I wanted to be in the sports industry," Lee recalled. "I crushed the interview and found out right away that I got the job. It was a very rewarding feeling."
Fast forward two years and Hard Rock Stadium, the Dolphins' home turf, is hosting Super Bowl LIV and Lee is asked if he would work the event. It was a no-brainer for this sports fan.
Lee, who is an account executive in the Dolphins' business development office, was charged with overseeing 15 suites during the Super Bowl. He got to hobnob with sports stars and celebrities and was assigned to NFL legend John Randall, former Minnesota Vikings defensive tackle.
"I walked up to him and told him I was going to be his bodyguard," Lee joked. "He was a super cool guy and I took him to various suites to meet people."
Jump to the West Coast and we find another stellar alum, Koula Gregor, working the live stream at the Oscars! Gregor, a Sewell, New Jersey, native, works for ABC (Walt Disney Television) as an ingest manager. This was her fifth year working the Academy Awards broadcast, but it was the first time she was responsible for live streaming the show to millions of viewers.
During the awards ceremony, Gregor worked on live streaming the Oscars All Access: Red Carpet Live on the official Twitter page of the Academy. She also controlled the live stream during a live promo for the hit show The Connors. Gregor ran quality assurance of the feeds to the network nationwide.
Like Lee, Gregor collected internships like charms on a bracelet. While at NU, she interned at several media-related companies including Propulsion Media Labs, Columbia Records, Bonadonna Media and The Wendy Williams Show. She ended up falling in love with New York City and hoped to land a job in the Big Apple.
After graduation, Gregor continued working (for free) for Columbia Records. She was determined to keep her foot in the door and working toward securing a full-time job in the entertainment industry.
With help from her friend and NU alum Kat Sullivan, Gregor started a part-time job as a media acquisition specialist with ABC. Sullivan was working at ABC and knew of the job opening.
Gregor went from part-time to full-time and is now living in Los Angeles working at ABC's Prospect Studios as an acquisition and ingest manager.
"It's really fun to work in your field. Day to day I work with producers of a lot of different shows," Gregor said. "People here have been very supportive."