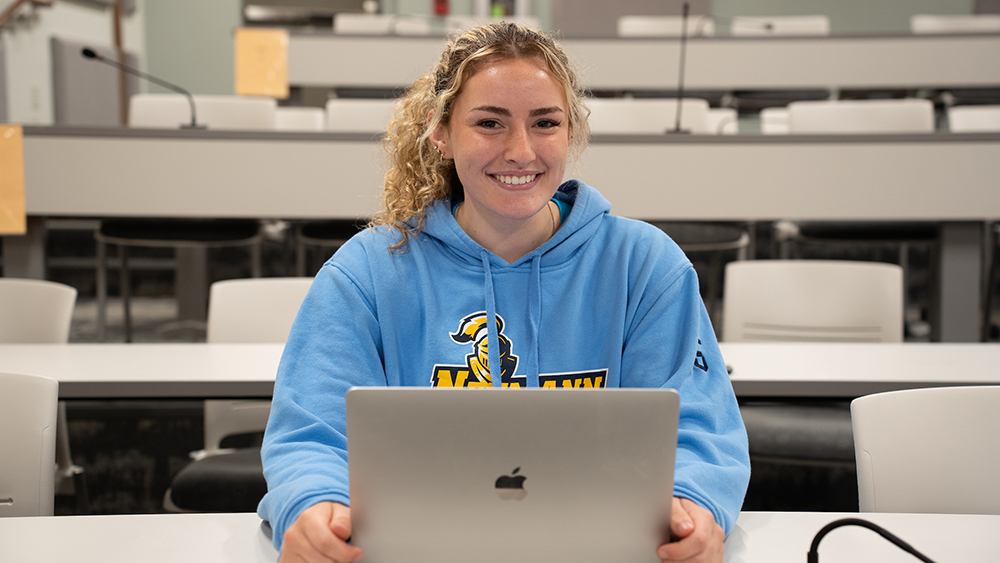 It's a good time to be a nursing major. Just ask Lauren Garvey, a 21-year-old senior from Aston.
After completing one of her clinical assignments at Chester County Hospital in West Chester, she applied for a summer externship there. According to Garvey, the hospital describes the externship as "a bridge between nursing school and full-time nursing."
The deal was appealing. If accepted for the program, Garvey would be paid for her summer work and offered a full-time nursing position when she graduates in May of 2024. The agreement stipulates that she will work at the hospital for at least 18 months after graduation.
After completing an online application, Zoom interview, and background check, she landed the position.
"I'm excited to have a job waiting for me," she admits, "and after my externship, I know a lot of staff in the unit, too."
During the summer, Garvey worked as nurse extern in the Progressive Care Unit (PCU) with cardiac and critical care patients who need extra monitoring. "We have all their vitals up on the screens in their rooms," she explains. "PCU is a step up from med-surg and a step down from ICU."
Usually, externs are assigned to one nurse, but she worked with several and liked the experience. She was able to see and implement a variety of approaches and techniques from young and veteran nurses. "It was cool to see how different nurses would react to the demands of each shift."
She believes that the Neumann nursing program and her personal qualities helped secure her position at Chester County Hospital a full year before graduation. "I'm very hard-working, I care a lot about other people, and when I have my mind set on something, I don't stop until it's finished."
Garvey also embraces Neumann's philosophy of compassionate care. "You need to have empathy as a nurse. It results in better patient-nurse relationships and that improves patient care."
She is eager to start her career in nursing. "I'm very ready. I can't wait. Now that I have some experience, I feel a lot more comfortable, too."