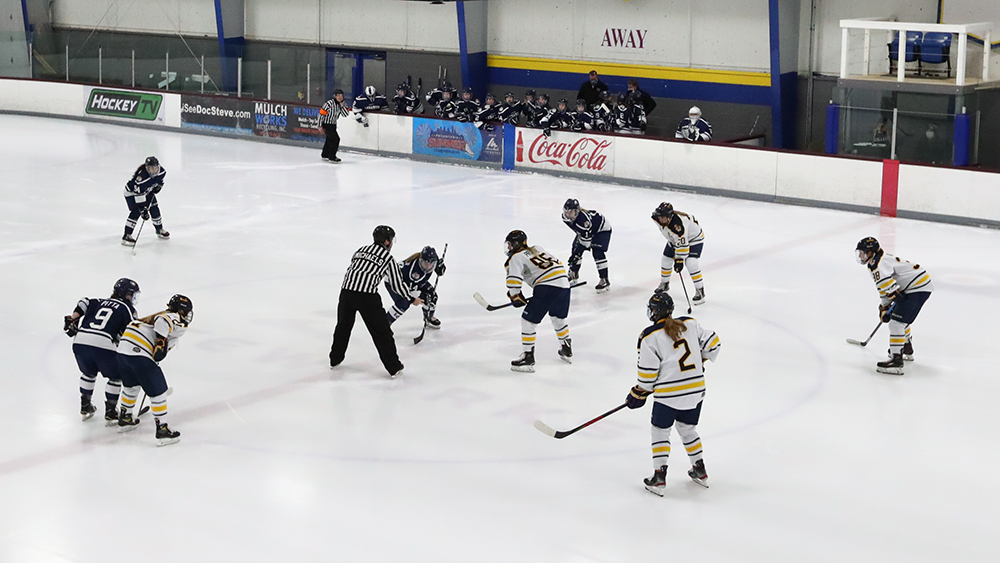 Neumann University women's ice hockey coach Gina Kearns McLaughlin is truly a sports trailblazer, and she is being recognized for her talents. On April 24, McLaughlin will be inducted into the Delaware County Athletes Hall of Fame at the organization's 82nd annual ceremony.
McLaughlin grew up in Delaware County and graduated from Interboro High School in 2005. She played four years of ice hockey in high school – for the boys' team and became the captain of the squad. McLaughlin remained the only girl on the team during those four years, and she loved every minute.
"It was awesome. I have an older brother who played. When I was a freshman, he was a senior, and that was cool to be able to play with him. The guys were super protective, and I had grown up with them and had a lot of good friendships. It was a special experience," she recalled.
"The community reaction was super supportive. My teammates, coaches, and school were always positive and made sure I was treated properly. The opposing teams were not as kind. I often had a target on my back as soon as the players saw the ponytail," she recalled. "Playing against a girl was something very new to them. As I got older, I felt like I earned the respect from most of my opponents."
McLaughlin grew up with a mother who was a huge Philadelphia Flyers fan and always had the games on the family TV. So ice hockey was a part of her life from a young age. She started playing the sport when she was 11 years old. At the time, there were not many options for girls to play the sport. She played on the Delco Phantoms U19 team when she was only 12.
After high school, McLaughlin attended Boston University, where she finished as the all-time leading scorer for the Terriers, tallying 52 goals and 50 assists for 102 points in her four-year career. She was also a three-year captain for BU, the first woman to achieve that goal in program history.
McLaughlin came to Neumann in 2014 as an assistant coach and decided coaching was her career choice. She left NU after two years and went to coach at Penn State University in State College. After four years at PSU, McLaughlin found her way back to Neumann.
"A couple of years into my Penn State tenure, the head coaching position opened up back here, and it was something I had thought about. But I liked the Penn State job, and I was learning a lot, so I passed," she said.
As fate would have it, the head coaching position at NU opened up again two years later, and this time McLaughlin went for it. "The opportunity to be a head coach at the rink I grew up with, in a town that I'm essentially from, was an opportunity I couldn't pass up."
McLaughlin is grateful that her team could play with fewer COVID restrictions this year, and returning to some sense of normalcy was good for her players and fellow coaches. And In addition to coaching ice hockey, McLaughlin is also the Athletic department's new media coordinator.
"It's a sport that I love. It gave me many opportunities and some of the greatest memories as a child and in college. It gave me great friendships and great coaches," she explains. "I want to give back to the sport that gave me so much, and I'll coach as long as I can."
While McLaughlin is not on campus or at the rink, she and her husband Bill are busy with their three children, Callie (6), Maddie (3), and Brady (11 months).
In addition to McLaughlin being inducted into the HOF, Neumann University alumnus Joe Crawford is also being inducted. Crawford graduated in 2008 with a BS in Liberal Studies. A Cardinal O'Hara graduate, Crawford has had a long career in the National Basketball Association, refereeing more than 2,500 NBA games, 313 playoff games (the most in history), and 50 NBA Finals games.