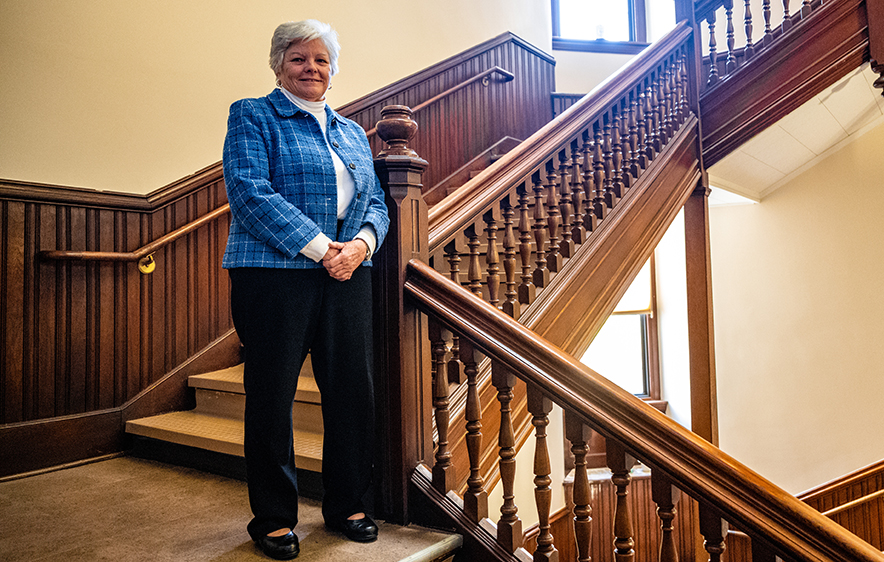 Glen Riddle Hall, the residential wing of Our Lady of Angels Convent, will expand its capacity by the start of the fall 2023 semester. The fourth floor is being converted to resident space and will accommodate 24 students in 11 rooms.
"The University has gained access to the 4th and 5th Floor of Glen Riddle," wrote Chadwick Johnson, director of housing and residence life, in an April email to students. "At this point in the process, we are only offering the 4th floor to Undergraduate students. Acquiring these floors now grants all Glen Riddle students access to the elevator and the entrance that faces the Bachmann building."
Johnson indicated that some of the spaces are for three people while others are for two. He described some of the designs as Jack-and-Jill style suites where two rooms (each with 2-3 students) are connected and share a common bathroom.
"There will be common areas for all Glen Riddle students and then a full common kitchen like the other kitchens in Glen Riddle for all students on the floor," he added.
According to Dr. Chris Domes, "The expansion of our residential facilities into Glen Riddle Hall has been an unqualified success. Students have responded positively to the rooms and to the opportunities they have to interact with the Sisters who live in Our Lady of Angels. Opening the fourth floor of Glen Riddle will allow even more students to enjoy similar on-campus living experiences."
The second and third floors of Glen Riddle opened to resident students in the fall of 2022, approximately 14 months after the university purchased Our Lady of Angels Convent on June 30, 2021. The first floor and basement of the convent wing are currently used for meetings and student activities.
Students on the second and third floors of the wing, formerly known as the Franciscan Spiritual Center, live in double-occupancy rooms, each with its own bath. Women and men live on each floor in separate suites.
The addition of 24 residents will increase the total number of students living in Glen Riddle to more than 60. A resident assistant, graduate assistant, community peer minister, and academic resource coordinator also live in the hall.
There are 38 Sisters living in the convent.
The Our Lady of Angels complex, which provides a total of more than 152,000 square feet, was built in stages from 1873 to 1930, according to documents provided by the Sisters of St. Francis of Philadelphia. Glen Riddle Hall, the wing that now accommodates resident students, was the last addition to the building.