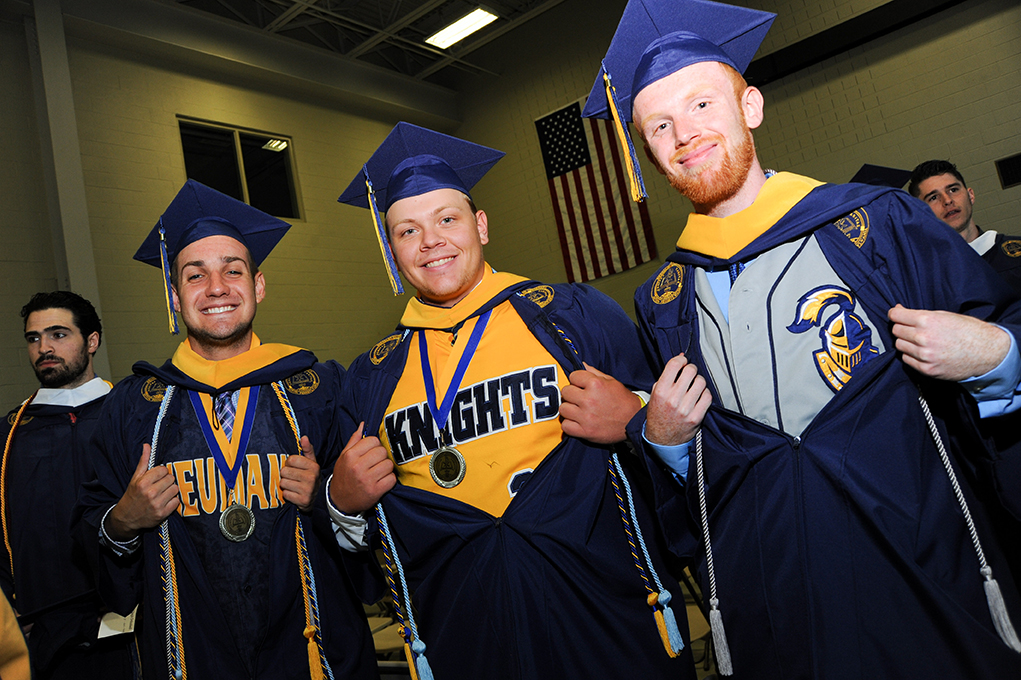 The Class of 2019 cheered for classmates and celebrated with their families at Neumann University's 53rd Commencement Exercises on May 11. The new graduates heard inspirational messages from Fr. Michael Duffy, OFM, who received an honorary Doctor of Humane Letters degree, and Dr. Chris Domes, university president. Co-valedictorians Jacqueline and Victoria Schneider, speaking on behalf of their classmates, expressed gratitude for the support and joy that they experienced during the last four years.
In all, Neumann awarded degrees to 392 students. Graduates received 29 doctoral degrees, 67 master's degrees, and 296 bachelor's degrees. Graduate and adult students received their degrees at 10 a.m., undergraduates at 2:30 p.m. in the Mirenda Center for Sport, Spirituality and Character Development. Both ceremonies were more intimate than those in recent years because more than 160 students participated in the university's first winter graduation in December.
Father Michael's Advice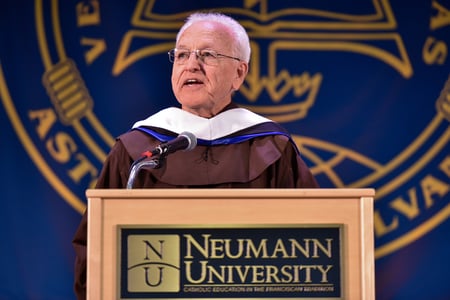 "I believe that there is a culture of service fostered here at Neumann University, and I greatly admire that," said Fr. Duffy.
"My wish for you graduates is, as your life's journey carries you beyond this campus, that you may bring with you this culture of service wherever you go and to whomever you meet," he said. "If you do this, you can be ensured that in Gods' eyes and in Jesus' words, your future will be a great one."
Honored for a lifetime of service, Fr. Duffy is in his 31st year as a member of the Franciscan Team that runs St. Francis Inn, a soup kitchen and outreach ministry to the poor, the homeless and the addicted in the Kensington section of Philadelphia. He helps coordinate the group that feeds between 300 and 400 people a day, distributes clothing to those in need, holds mail for the guests, and has an extensive referral network for social services.
Neumann students make service trips to St. Francis Inn several times each month. Fr. Duffy recalls that "they'd put on an apron, grab a tray, and serve in our soup kitchen."
He is best known for delivering the homily at the funeral of Fr. Mychal Judge, the NYC fire chaplain who died in the 9/11 attack on the World Trade Towers. The service was televised worldwide.
A graduate of Boston College, Fr. Duffy was one of the founding members of The Franciscan Volunteer Ministry, a program for young people who wish to dedicate a year or two to service by working with the Friars in Philadelphia, Silver Spring, MD, or Durham, NC.
A Gift to Be Shared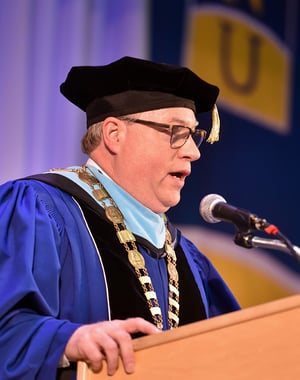 Quoting from the university's mission statement, Dr. Domes reminded the graduates that "a Neumann education is built on 'the belief that knowledge is a gift to be shared in the service of others and that learning is a lifelong process.'"
"As graduates of Neumann you are asked to be leaders that will always raise your voice on behalf of those who have no voice," he said. "You are called to lift up those who live and exist on the margins of society.
"Professionally and personally you have the tools to lead others in a new way - toward a path of compassion, peacemaking, and a reverence for all of God's creation. Always do your best, never stop pursuing your passions, and always show care and respect to each person that you encounter in life."
Valedictorians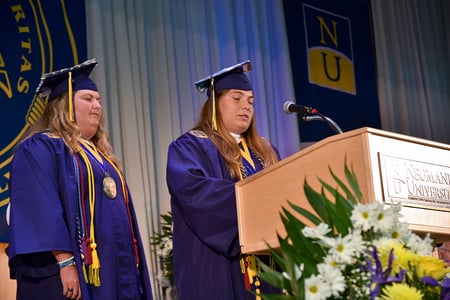 Jacqueline and Victoria Schneider, twins who shared valedictorian honors, told their classmates that "Neumann has established itself as an institution that allows students the opportunity to find joy in every day, and for that, we should all be extremely grateful."
"I challenge everyone to walk our campus for a day and not smile," said Victoria. Whether it be passing Sister Marguerite in the circle, running into your favorite professor at the cafe, or just counting the number of times someone smiles and waves at you, it is impossible not to be overcome with the joyous spirit of Neumann University, and that is a direct outcome of our RISES and Franciscan values that shine through every day."
They also expressed gratitude to the faculty: "The professors are passionate and genuinely care about each and every one of their students, and they are a big reason why we are all sitting here today … It is our hope that when everyone in this room gets the chance to be the person changing someone else's life, like these professor have done for us, that you take it and do everything in your power to pay forward the amazing opportunities that you were given in your four years here."
Jacqueline is a Criminal Justice major, who has played ice hockey and softball throughout her years at the university. Victoria is an Early Childhood Education major and also a member of the softball team, which won the Atlantic East championship this spring.