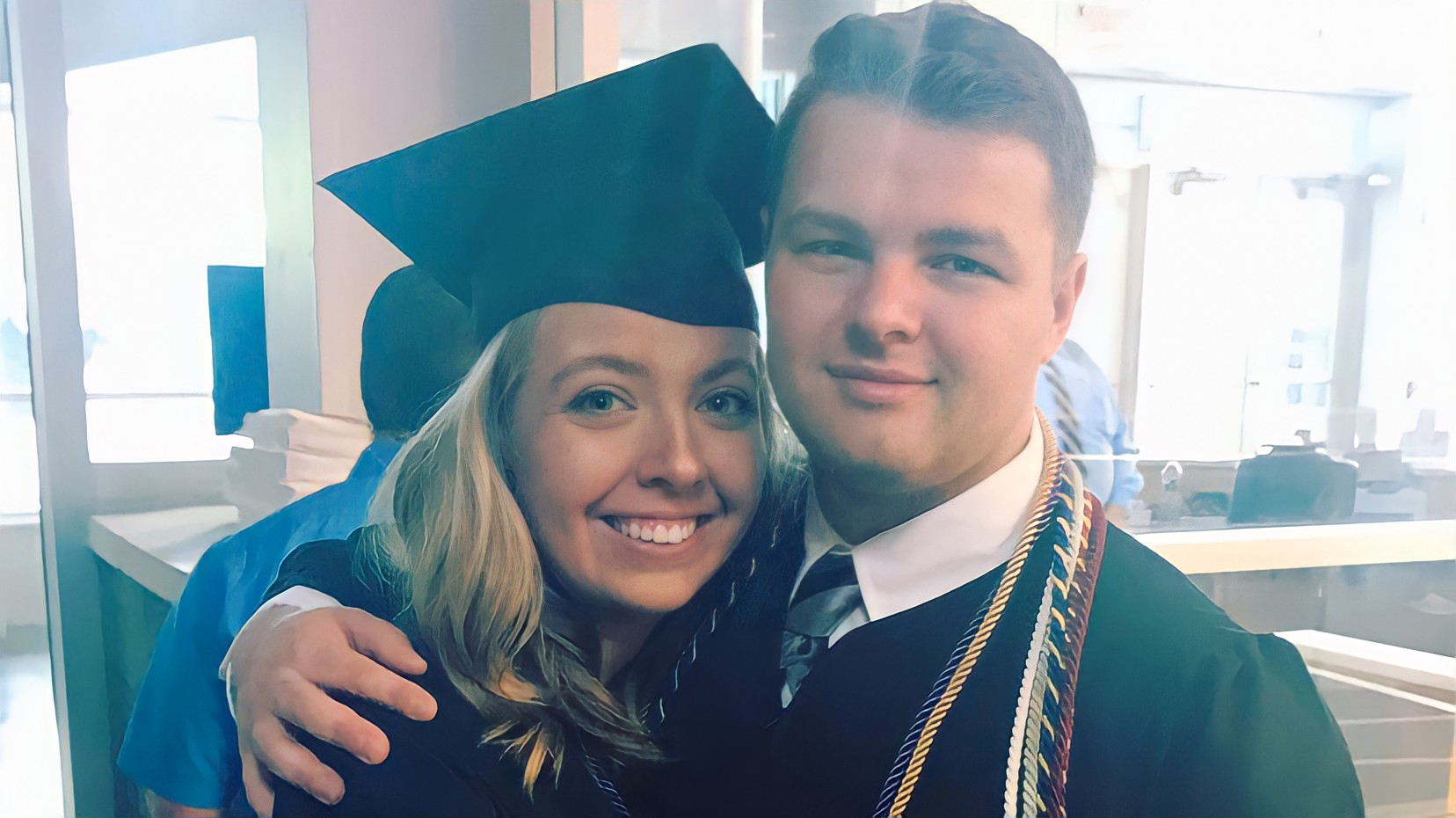 The birth of a baby is truly a miracle and a joyous celebration for the entire family. Mike Forrest '17 and his fiancé Kerri Klatcher '17 were fortunate to experience this joy when Klatcher's sister Lauren gave birth to Harper Taylor on January 29, 2020. This beautiful little girl stole everyone's heart from the moment they first gazed upon her.
Tragically, Harper's life ended only five days after she was born. This seemingly healthy baby developed a cough ten hours after birth and she was rushed to the hospital's neonatal intensive care unit (NICU). Harper was battling a blood infection caused by E. coli. She was transferred to the NICU at Nemours Children's Hospital in Wilmington, Delaware.
The infection was too much for Harper's tiny body to fend off and she passed away.
Forrest and Klatcher spent many days in the hospital supporting Lauren and her husband Ryan during Harper's short life. They brought them food and anything else that they needed. The couple, who have been dating since high school, are very close to each other's families.
Devastation barely describes the emotions that Forrest and Klatcher felt after Harper's passing. In addition to falling in love with a beautiful baby girl in the hospital, they also saw a need that many other parents were struggling with.
Harper's parents were surrounded by family and friends during this heartbreaking time. But Forrest and Klatcher soon realized that other parents in similar situations do not have that emotional or financial support while they are caring for their sick child in the NCIU.
Simple things like money for gas and meals were needs that the Taylors never had to worry about while they were at the hospital. Other parents that they met were not so lucky. Amidst their heartbreak and sorrow, they saw a need and knew that Harper's legacy would be to help.
"It really opened our eyes. This is really a tough situation. There are people who are single moms who have to do this all by themselves. We all thought this was a really terrible situation," Klatcher said.
Forrest recounted a story about sharing pizza with a mom whose son was in the NICU at the same time as Harper. They watched the woman eat half of the slice and save the rest for her next meal. She did the same thing with the drink they gave her.
"It was so eye-opening," said Forrest. "That was one of the things we really thought about when we reflected on this. Not everybody has a (family) group that is available to be there 24/7 to support them."
Shortly after Harper passed in the hospital, her father Ryan told the family that he decided to do something to help other families in her name. In only 10 days, Harper had changed her family's lives and their goal became forming a non-profit with a mission to help other families with babies in the NICU.
The non-profit, known as Harp's Hope, was formed on July 20, 2020, with a mission to reduce the financial burden of indirect costs accrued by families while having a child in the NICU.
"There's a lot of great peripheral services that hospitals offer but we fill in that niche for the in-between costs," Forrest explained.
According to the non-profit, 10 to 15 percent of babies born in the United States spend time in the NICU. These families incur indirect costs such as transportation, parking, and food which average $60 to $80 a day. In many cases, the families do not know how long their children will stay at the hospital and this paired with financial concerns can create a tremendous amount of stress.
Harp's Hope raised $10,000 last year through various events such as a virtual 5K race. Forrest volunteers as the non-profits' director of finance and Klatcher volunteers as the social media manager. Forrest is a project manager for Daniel J. Keating Company and Klatcher is a kindergarten/special ed teacher at the Philadelphia Performing Arts Charter School.
While the loss of Harper will forever be etched upon their hearts, Forrest and Klatcher welcomed Harper's brother Reid to the family in February.
"He's the best," Klatcher said. "God gave us Reid for a reason. He's our whole world."
In addition to spending time with baby Reid, these two alums are also getting ready for their wedding on March 12, 2022. ​​​​​​​
To learn more or to donate visit Harp's-Hope.org and Facebook @harpshopeorg.