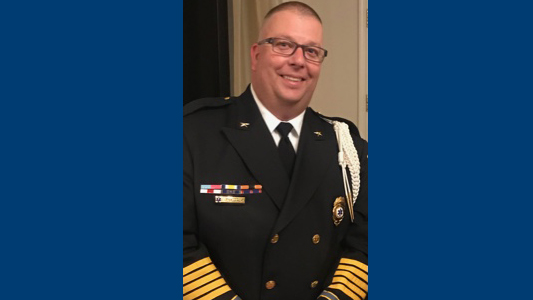 Fred Wurster never thought he'd be a college graduate. Then while working as a paramedic, he'd heard from a co-worker that Neumann's degree completion program was easy to enroll in and had realistic expectations for graduation.
"I experienced a welcoming atmosphere from the start with the application process. Jil Donnelly (Executive Director of the Adult and Continuing Education unit) was very welcoming and had a willingness to accept a diverse student," said Fred.
Fred graduated in 2016 with a BS in Public Safety Administration and is currently enrolled in the master's program in Business and Organizational Leadership.
"Neumann truly has a willingness to understand the lives of working dads, husbands, the adult learner. Their Franciscan values really shine through. The professors are supportive and want you to be successful, it shows." He added, "Dr. Loomis was really impactful."
During the spring semester of his first year of classes, Fred was promoted to a managerial position. "I was able to use real life experiences in class and bounce ideas off classmates. It was really cathartic."
In October 2020, Fred was promoted again to EMS Chief at Tower Direct where he oversees 150 EMTs, paramedics and critical care nurses over seven different hospitals. "The PSA degree and enrollment in the master's program definitely helped in getting this job," he said.
"I think it's important to take time to invest in yourself as an adult learner. Neumann caters to understanding the needs of adult learners and allowing opportunities for adult learners. I'm lucky that Neumann found me and I found Neumann."