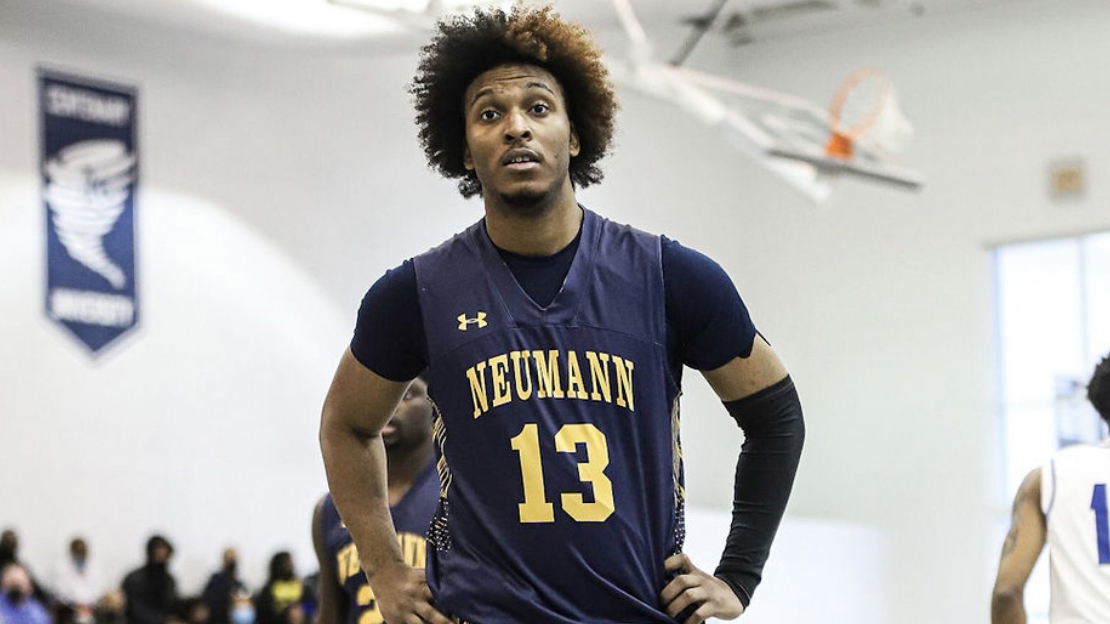 Junior Jalen Vaughns, a standout star on the men's basketball team, is an All-American. He was named to the National Association of Basketball Coaches (NABC) Division III All-America Third Team.
The All-American honor capped an outstanding year for Vaughns. For the second straight season, he was the Atlantic East Conference (AEC) Player of the Year and earned a spot on the AEC First Team. He notched Atlantic East Player of the Week honors five times, was the Defensive Player of the Week twice, and a two-time Honor Roll selection.
His superb play also earned him slots on the NABC All-District First Team and the D3hoops.com All-Region Five First Team. During the season, he soared over the 1,000-point plateau for his career.
Despite receiving numerous post-season accolades, he is quick to deflect the praise and pass it along to his teammates.
"I'm most proud of how we stayed together. We had a tough schedule with our first eight games on the road," he said of his teammates.
Vaughns started all 24 games in which he appeared this year for the Knights, averaging a double-double and leading the AEC in scoring, averaging 22.8 points per game, and rebounding, with 10.5 boards per game. He also led the AEC in points with 546, free throws with 100, and 223 field goals made. Vaughns also had the top field goal percentage in the conference, sinking a remarkable 59.2 percent of his shots.
Along with a core group of seniors, he was instrumental in the team achieving another 20-win season and a trip to the conference finals.
Men's Basketball Head Coach Jim Rullo is proud of Vaughns' success on the basketball court but knows his story isn't over yet and is not defined simply by basketball. When Rullo and his coaching staff decided to recruit Vaughns, they mapped out an academic plan with him and his family. That plan has led to academic achievements that Vaughns values as much as his athletic achievements.
"I'm so happy for Jalen's success on the basketball floor," said Rullo. "Without question, this young man has performed quite well. However, the best part of his story will be when he gets his degree next year.
When we decided to recruit him to Neumann, we mapped out an academic plan with his family to make sure they understood why Neumann was the best place for him. I believe the family appreciated that level of support, and that was the main reason why he decided to become a Knight. It's been a joy to coach such a hard-working and selfless young man."
Another source of pride for Vaughns is the way his college basketball journey is panning out. He characterizes it as not having the best start when he began playing for Indiana University of Pennsylvania as a freshman.
"I knew I had the talent, and it's great to be recognized. I feel the love here at Neumann," he explained.
Some of that love comes from Coach Rullo and Sr. Marguerite O'Beirne, who has been in Vaughns' court since day one.
"Sr. Marguerite just told me that she saw I was an All-American on the court and now wants me to be an All-American in the classroom," he said. "When you have people who want to help you, it makes it a lot easier to succeed."
Vaughns hopes to continue his and the team's success next year by winning the conference championship and returning to the NCAA tournament as the team did in 2022.
Vaughns is a Criminal Justice major. While he hopes to continue his basketball career after graduation, he sees himself eventually working in the juvenile justice field, helping kids find a better path in life.