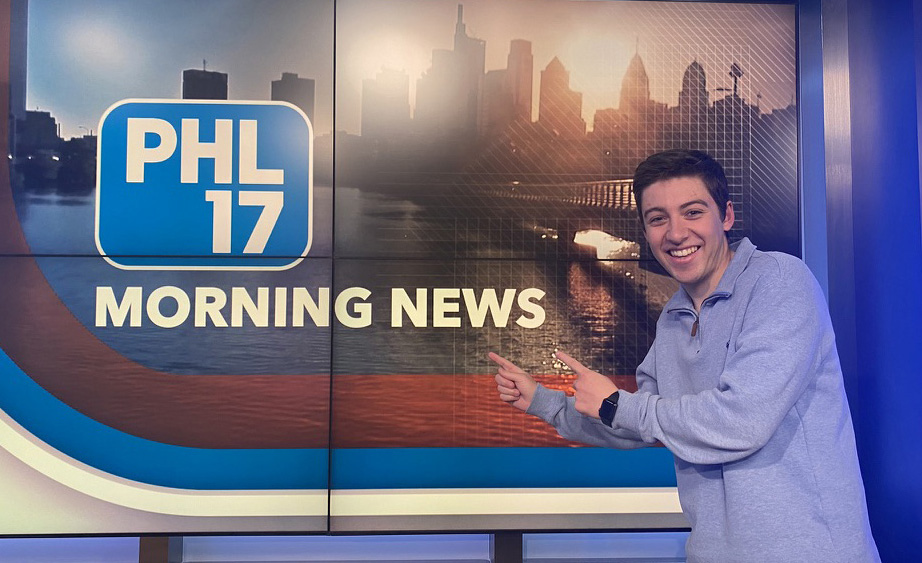 As James McDonald toured Neumann University's Mullen Communication Center during Studio Day in 2019, he wondered if the university would be the place to pursue his dream of working in the television industry. After completing an internship with WPHL-17 (PHL17) last fall, McDonald is confident he enrolled in the right university.
McDonald interned with the station's morning news program. Having his alarm go off at 2:00 a.m. was well worth it, as this internship exposed him to the morning news industry from various angles. He reported for duty at 3:30 a.m. and worked until 10:30 a.m. three days a week last fall.
"I really was exposed to all the different elements of the television industry. Some days I would be out with our reporters, and I also got to record some reports of my own, which was one of the highlights for me," he said.
When jokingly asked if he drank much coffee to work those early morning hours, McDonald quickly replied that caffeine was unnecessary.
"I don't drink coffee and didn't need it because I was so excited to be there. Every day was so different, and I really looked forward to going to the station. Most nights, I had trouble sleeping because I was so excited about what was going to happen on the program the next day," he said.
McDonald also wrote a wide range of stories for the news program, ranging from the absurd to the inspiring. These included a woman who sued Kraft Foods for misleading customers about the time it takes to heat an instant microwave mac-n-cheese cup to Jaylen Smith being elected mayor of Earle, Arkansas, at 18.
In addition to writing stories for the morning news, McDonald worked closely with the station's news director, producers, and reporters. He helped prep guests before, during, and after their on-air segments. One of these guests was Charlie Manuel, former manager of the Phillies.
McDonald's internship coincided with the Phillies' historic World Series run. He was featured in a live segment at Citizens Bank Park, modeling some of the team's exclusive World Series merchandise.
"The connections that I made at this internship and the learning opportunities were so invaluable to me. It instilled in me that broadcast communications is something that I really, really want to do after graduation," he said.
McDonald's history with Neumann University traces back to his grandfather, a professional accordionist who has traveled the world performing. He remembers his grandfather telling him that Neumann had the best sound, and that fun fact stuck in his head when he was looking for colleges.
"The CDM faculty, Sean McDonald, Kerry Hustwit, Dr. Glass, and Janis Chakars, really sold the deal for me. They talked about all of the opportunities that would be possible at Neumann, and they've kept their promises," McDonald said.