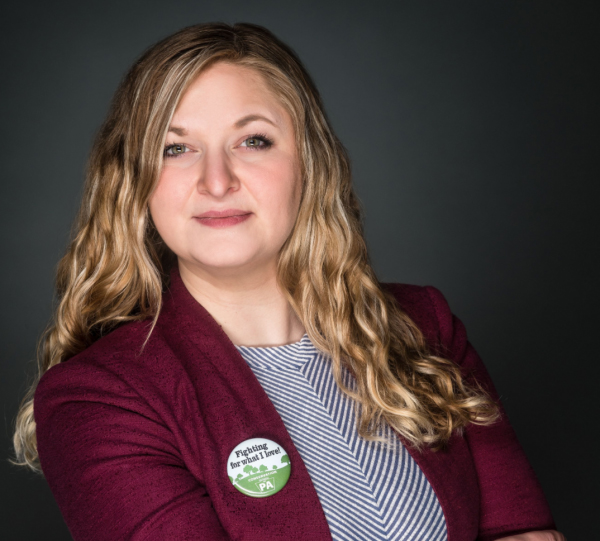 While other little girls were playing with dolls, Jess Cadorette '16 was outside with her favorite toys, glow-in-the-dark bugs. To say she always appreciated nature is an understatement for this environmental activist who was determined to carve out a career protecting our world.
Cadorette is the field director for Conservation Voters of Pennsylvania (CVPA), the statewide voice for the environment. CVPA is a non-profit organization that works to elect environmentally responsible candidates to state and local offices. The mission of this organization is to strengthen laws that safeguard the health of communities, the beauty of Pennsylvania, and the state's economic future.
Cadorette was recently honored by being named one of 15 local leaders under the age of 30 in Main Line Today's Next Gen 2020 series. For Cadorette, this is way more than a job and it aligns perfectly with the passion that burns in her heart.
"I'm grateful everyday for this job. I certainly always had this love and awe for our natural world," she explained.
After Cadorette graduated from Neumann University, she searched for a job where she could work to protect the environment. One of her first jobs was a community organizer at Penn Environment, a non-profit whose mission is to make the world a greener and healthier place for all.
"I started as a community organizer for Penn Environment. That was my entrance to this career," she said.
As with many entry-level jobs, Cadorette worked long hours earning a modest salary. But the work ignited her heart and she knew she was where she was meant to be. She ignored suggestions from well-meaning friends and family to simply volunteer to protect the environment and find a job that was less demanding and paid a better wage. Cadorette tuned them out, listened to her heart, and pushed forward.
"The calling was just too great. I decided that I had to do this now and I stuck to it," she said. "We really have to make a change at the local level."
CVPA has a strategic partnership with Penn Environment. They work together as a joint field team. Therefore, it was an easy transition for Cadorette to land a position with CVPA. Her current job responsibilities include building out a new arm of the organization working with the field teams across the state.
"I gained so much training and so much experience at Penn Environment. I worked 60, 70, 80 hours a week for two and half years, but the effort really paid off and that's how I made the connection for this job," said Cadorette.
Cadorette is a third-generation legacy. Her grandmother, Dorothy Ace Roberts, graduated in 1975, and her mother Lisa, graduated in 1989 and received her master's degree in 2016. Having spent most of her life at NU (Cadorette's mother also worked at the university for 25 years), the university's Franciscan values resonated with her from a young age. And, after she graduated, she took these values with her and continues to share these with everyone she meets.
"We've been provided so much and sadly lost our way. We're forgetting about the very real magic that lives outside our door and we're not taking care of it very well," Cadorette said. "If I can help affect climate change in Pennsylvania it will affect our whole nation."