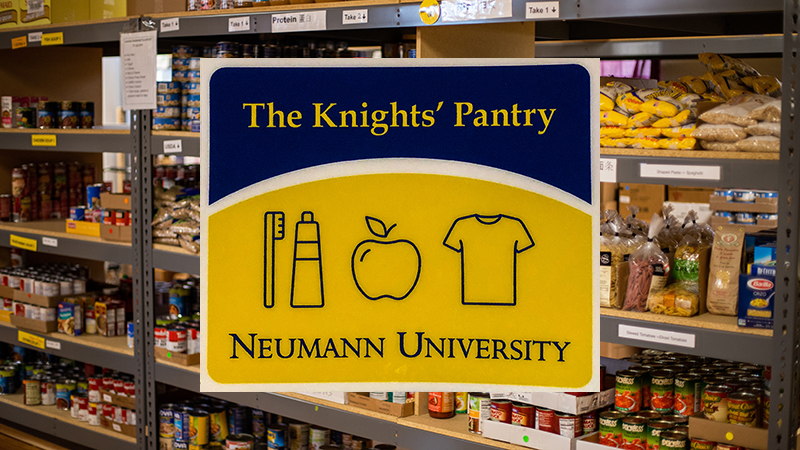 Before leaving office, former Pennsylvania Governor Tom Wolf and his wife Frances Wolf awarded Neumann University's Knights' Pantry a $20,000 Hunger-Free Campus grant this month. Neumann's grant was part of a $1 million initiative designed to address and eliminate student hunger across the commonwealth by expanding access to food options, creating awareness, and upgrading facilities.
According to Wolf, the number of postsecondary students with food insecurity has increased since the pandemic. These grants give Pennsylvania colleges and universities the tools they need to combat hunger on their campuses and provide students with access to healthy food so they can stay focused, learn, and grow.
Rina Keller, co-chair of the Knights' Pantry, is thrilled to receive this grant. She explained that this initiative fits perfectly with the mission of the pantry which is to embrace Neumann University's RISES values and provide resources to alleviate food insecurity, improve health and wellbeing, ensure a reduction in food waste, and promote sustainability on campus.
"I am thrilled that we received this grant, as it validates the current work of the Knights' Pantry Board, students, and staff and provides a tremendous opportunity to increase our outreach and impact. Focusing on infrastructure, access, and education, the Knights' Pantry can ensure that every student who needs assistance will have the opportunity to receive it," Keller said.
The grant will be used to fund numerous projects such as fully stocking the shelves, including products for special dietary needs and culturally diverse recipes; establishing an emergency satellite cabinet in the Residence Life Office for residential students; providing meals for students who remain on campus during university breaks; providing transportation support for commuter students; ensuring students can gather for meals during holidays; providing educational opportunities to enhance student awareness of nutrition; and reducing the stigma associated with food insecurity.
Keller acknowledges that the pantry continues to thrive thanks to the support of numerous people within the NU community.
"Many thanks to Dr. Domes and the executive team for their support of the pantry and our students, and a special thank you to Carrie Snyder, vice president for advancement, for her assistance with this application process," Keller said.