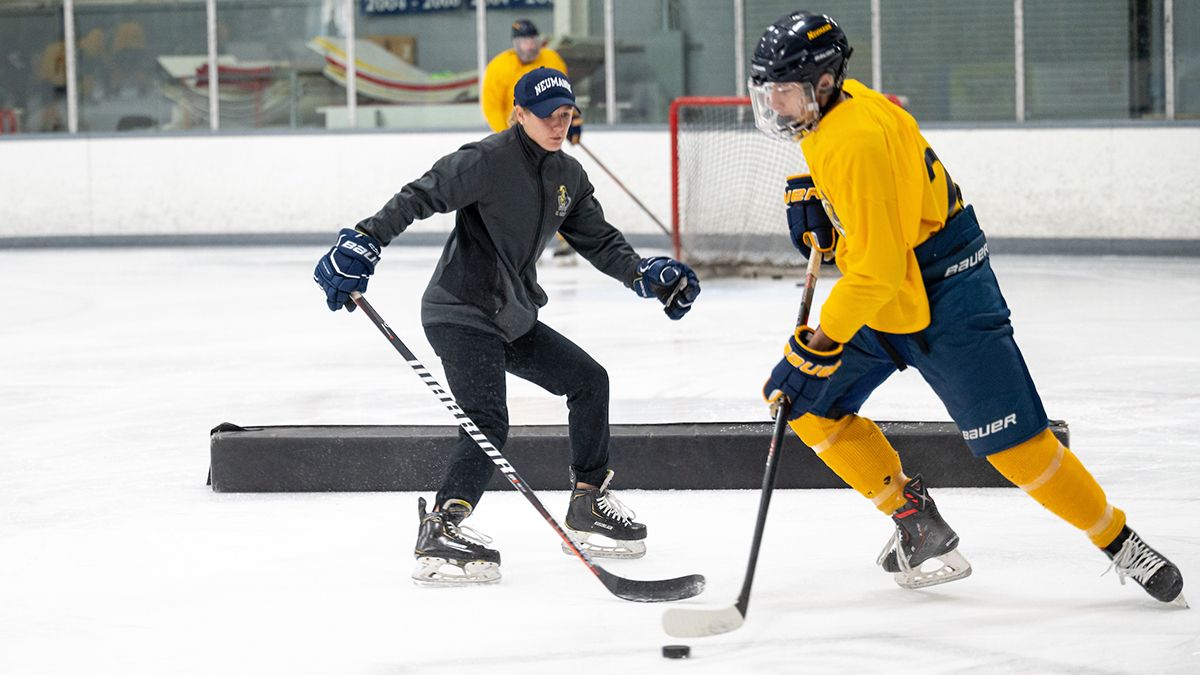 "Hockey is hockey," says Alyssa Gagliardi, deftly downplaying her unique role as the first female coach for the Neumann University men's ice hockey team.
Gagliardi is one of two paid assistant coaches helping head coach Kyle Mountain guide the Neumann Knights through the 2022-23 season. She is also the only woman in the country coaching an NCAA men's ice hockey squad during games.
"I don't know that there are other women coaches in men's hockey at the DI or DIII level," she muses. "There are at the pro level."
For 2021-22, the NCAA demographics database lists just one woman as a coach for men's ice hockey among 462 head and assistant coach positions nationwide. This year, there are women serving as strength and conditioning coaches at Buffalo State University and St. Olaf College, but Gagliardi is the only woman who coaches behind the bench during competition.
With a goal of working in the National Hockey League someday, she keeps a close eye on the coaching market and can rattle off the names of women who coach in the NHL. Her role at Neumann, which began in the fall of 2022, is another step in her career trajectory.
"Kyle was looking for an assistant. I was looking to coach at a higher level and get experience on the men's side. The timing was right for me and the program."
Gagliardi certainly has the credentials for the job. She played at Shattuck St. Mary's, a Minnesota prep school noted for its hockey programs, before going to Cornell University, where her team made the Women's Frozen Four twice.
The defenseman's favorite hockey memory is from those college years. When she was a sophomore in 2012, her team made the national quarterfinals against Boston University, battling for a spot in the Frozen Four. Cornell won a triple overtime game at their home rink, 8-7, scoring with just seven seconds left on the clock in the third OT. "The game went so long that men's game was delayed, and their fans started trickling in. By the end, we had 3,000 to 4,000 people who witnessed the dramatic finish."
After graduating, she moved to Boston and played professional ice hockey in a women's league for five years. She stopped playing competitively in 2019 and, later that same year, moved to North Carolina to work for the Carolina Hurricanes organization in youth hockey development. She stayed with the Hurricanes until she moved to Pennsylvania in April 2022.
Regarding differences between the men's and women's game, Gagliardi readily admits that the absence of checking in the women's sport makes it less physical but quickly adds that "There's more contact in the women's game than people give it credit for, especially at a high level. The women's game also provides more time for skill plays because you know you're not gonna get your head taken off."
Her experience at Neumann has been downright Franciscan. "The guys have been super welcoming from day one," she says.
"Any new coach has to earn the team's trust and show that you're invested in their development and the team's success, but I don't think that has anything to do with gender. It was nice that it didn't seem like a big deal here. Anyone on the staff who can add new perspective or ideas is valued, regardless of gender."
She bristles a bit at the notion that gender might define professional roles. "On the flip side, I had male coaches growing up and, from my perspective, no one is asking a guy coach why they're coaching women's hockey."
Coach Mountain agrees. "Along with an extensive and very accomplished playing career, Alyssa brings a great knowledge of the game to our program. She has a strong work ethic and her passion for skill development has been an asset for the team."
Gagliardi's position at Neumann is part-time. She also works with the Maine Mariners of the East Coast Hockey League, traveling north once a month "to get on the ice with the guys and do some video work as their skills development coach."
On campus, the Knights' season has been a mixed bag. "Our record isn't exactly where we want it," she admits, "but we're better than our record shows. I tell the guys, 'Don't leave any season with regret.'"
She certainly doesn't regret her opportunity at Neumann.
"I give credit to the guys for being open to something a little different and to Kyle for doing something that other schools haven't done yet. It's a barrier that doesn't need to be there. At the end of the day," she repeats, "hockey is hockey. I really enjoy coaching players, regardless of gender."