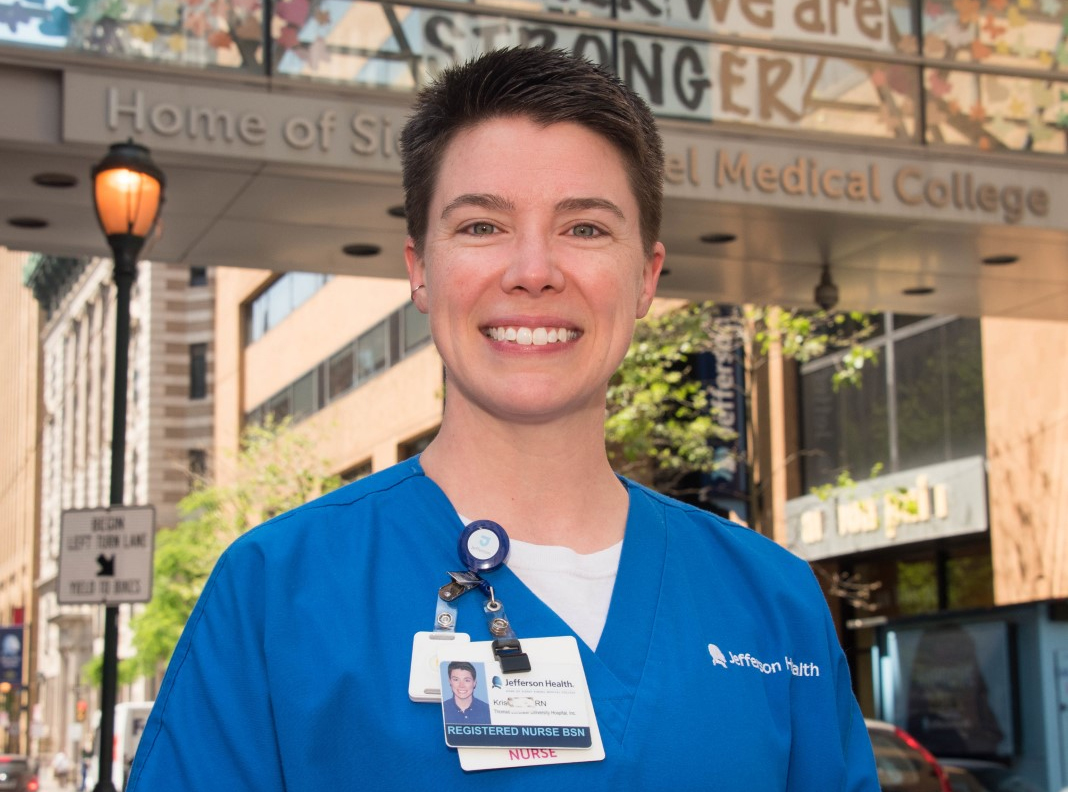 For Kris Pasto '20, life is all about connections - not networking for a job or rubbing elbows for social status but making genuine, human connections with everyday people. It was this innate instinct that translated well into the profession she chose – nursing.
"The only world where I could meet some of these people is in this hospital room," she says. "We are so different from each other in background and where we come from and language -- and it's amazing that you can connect and create such a bond, taking care of people. I think that's what nursing is really about, being able to help others in that moment."
Pasto is a nurse in the intermediate cardiac care unit at Thomas Jefferson University Hospital. Her patients suffer from advanced heart failure. Some are candidates for transplants.
She describes her work as busy (3 or 4 patients per nurse) but fulfilling. "It's fascinating – what we're able to do for people and their families with medicine and medical technology. I appreciate the ability to make at least a little impact on someone else."
Pasto seems to have care and compassion embedded in her DNA. "I take care of people around me," she admits, "and I'm a science-brain person."
That combination has generated in her a relentless curiosity, a love of nature and animals, and a fascination with biology and the human body. Even before she was a nurse, Pasto was a caregiver. She worked with veterinarians since she was 12, as a volunteer, an assistant, and finally (after receiving her associate degree from Harcum College) as a veterinary technician in Berwyn and Philadelphia.
She enjoyed working with animals and clients but wasn't satisfied. "I wanted to push myself, to do more." So, she enrolled at Neumann where she enjoyed her professors and clinicals.
Her shift work is grueling, but even in her free time, she reaches out to help people in need. Pasto volunteers for Be My Eyes, a free mobile app founded in 2015 to make the world more accessible for blind and low-vision people. The app connects visually impaired individuals with sighted volunteers from all over the world through live video calls.
"During COVID, I was looking for something to do," she recalls.
Pasto has been a Be My Eyes volunteer for a year and has received five calls for assistance. Two stand out. One health-conscious individual, shopping for a loaf of bread, couldn't read the nutritional label information on the packaging. Another, searching to locate a bus stop, used the app to get guidance. Pasto successfully assisted both callers.
"It sounds corny, but everyday actions like buying local and opening a door for someone can have an impact on people."
So can nurses if they have Kris Pasto's commitment to making connections.