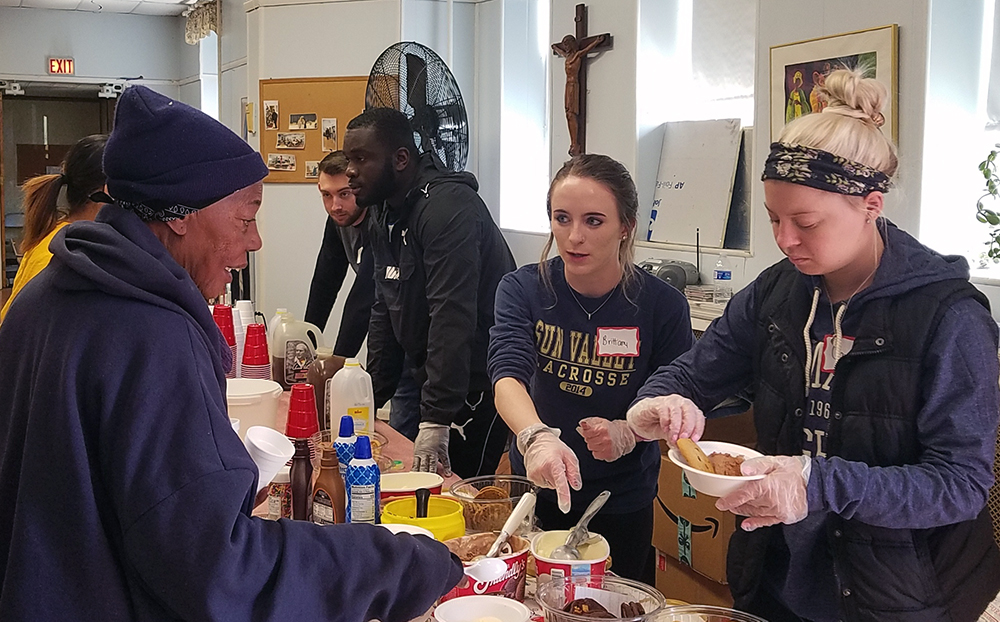 Fourteen students in Professor Janet Massey's Cost Accounting class learned much more than Accounting during a service-learning project at Anna's Place, a Franciscan hospitality center in Chester, PA. The students planned, budgeted and shopped for food, and they even helped prepare and serve meals at the center.
According to Dr. Massey, students strengthened their accounting skills by planning the event, preparing budgets, examining variances within the budget, and applying equivalent unit accounting processes while costing out the meal. Students also acquired leadership and teamwork experience by coordinating all aspects of the project.
"The greatest thing I was taught from participating in the service we provided at Anna's Place is that community is everything," wrote Dillon Prendergast, a senior. "People rely heavily on other people throughout their lives, and sometimes something as simple as having a conversation with another person could mean the absolute world to them."
According to the organization's website, the goal of Anna's Place is "to give voice to the voiceless, dignity to the oppressed, and safety to those who are vulnerable … accompanying the people in the city of Chester as they strive to reach their full potential."
Located at 226 Norris Street, Anna's Place offers patrons a welcoming and safe environment where they can learn and socialize together. It's a drop-in center that provides a variety of opportunities for personal growth, including computer skills training, knitting and crocheting classes, a community garden, bingo games, and health education programs. Lunch is offered once a week.
Students who participated in the project are John Beck, Emily Brennecke, Danny Cangelosi, Brittany Cassidy, Khalique Coleman, Ryan Dougherty, Bria Graves, Calmonie Guilford, Alicia Johnson, Derek Keough, Chris Konate, Mariah Maciejewski, Dillon Prendergast, and Carlee Williams.