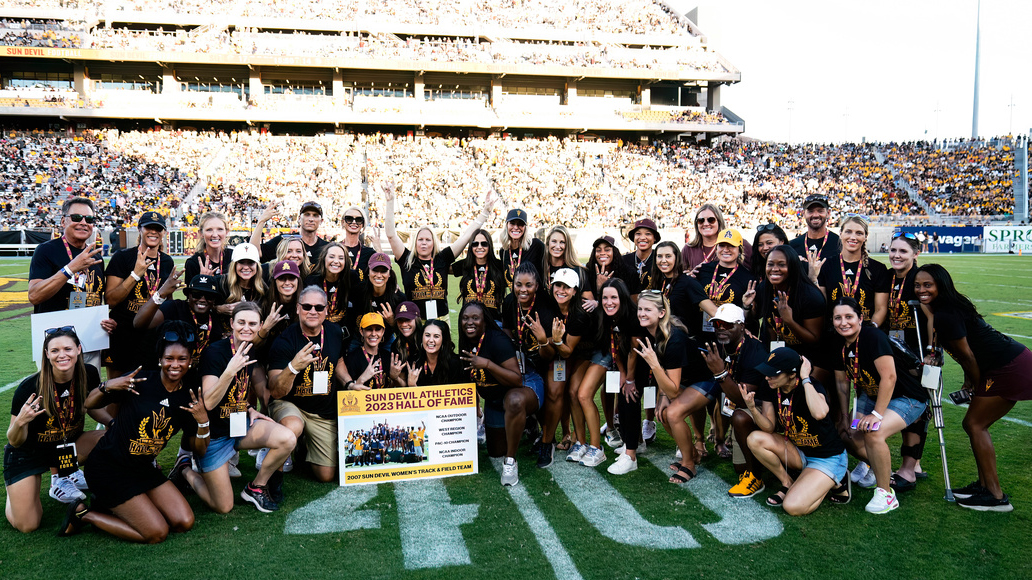 Arizona State University recently inducted Dr. Andrea Lobacz, an associate professor of Athletic Training, into its Athletics Hall of Fame.
Lobacz was honored for her role as an athletic trainer for the 2007 ASU women's track and field team, which won the NCAA indoor and outdoor championships. It was only the third NCAA program in history to capture both the women's indoor and outdoor team titles in the same year.
The Hall of Fame weekend took place on October 6-7, and Lobacz traveled to ASU in Tempe, Arizona, for the celebration. Festivities included a HOF induction luncheon on Friday and a halftime presentation in front of a sellout crowd during the ASU vs. Colorado football game on Saturday, October 7.
"Returning to Tempe was a great opportunity to reflect on the incredible learning experience I had as a young athletic trainer at Arizona State, and the wonderful relationships I built with staff and student-athletes," said Lobacz. "I feel very fortunate to have been able to reunite with a uniquely special group of individuals to celebrate what we accomplished together and what remains one of the highlights of my career."
According to Lobacz, "This was not the first special honor for the team, as we had been invited to visit the White House and meet President George W. Bush in recognition of the NCAA championships in October of 2007."
The team returned to the White House in 2008, repeating as NCAA indoor champions. The title run for the women stopped at three in a row with a second-place finish at the 2008 NCAA outdoor championship.
The 2023 ceremony was only the second time a full team had been inducted into the Sun Devil Athletics Hall of Fame. During her time with the team, they won the 2007 Mountain Pacific Sports Federation Indoor Championship, the 2007 NCAA Indoor Championship, the 2007 Pac-10 Championship, the 2007 NCAA West Region Championship, and the 2007 NCAA Outdoor Championship.