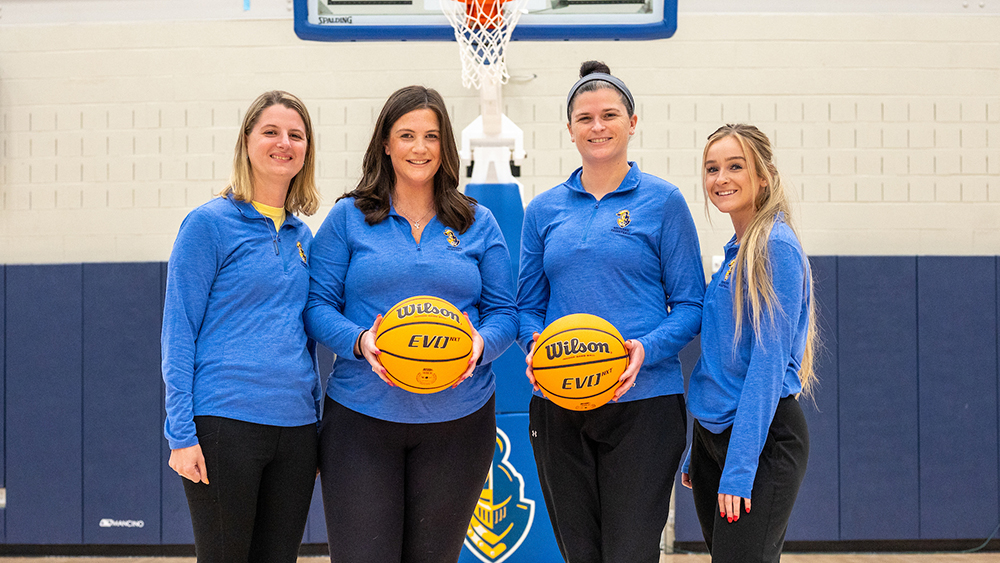 Four alumni are back at Neumann, working as assistant coaches for the women's basketball team. The game, it seems, is in their DNA.
"I love the game," says Lauren (Walker) Ruxton '14. "I've been playing basketball since I was five. When you play for so long, it's weird to imagine life without it."
Kacy (McNichol) Cellucci '09 agrees. "I just love coaching. I grew up around the game. Both of my parents were high school coaches, my sister is a head coach now, and my mom [Mary Beth McNichol] is head coach here. It's in my blood."
All four have full-time jobs, but the campus environment and the attraction of working with a team have drawn them back to the court. Coaching is a time-consuming commitment, with a busy schedule of practices and games from October through February. The benefits of the experience, however, are the magnets that pull them to the Mirenda Center.
"I loved being here, the atmosphere of the campus," recalls Lauren Leicht '21, "and I love teaching kids what I know about the game and building a relationship with each player."
A small forward who admits she had to be "crafty" because she's short for the position, Colleen (Hinde) Furey '14 just enjoys coaching here. "From the second I stepped on this campus, I've always loved the atmosphere. Everyone is so welcoming. And the girls make it worth it. There's always something to look forward to."
Their coaching duties and styles vary, but the four young women all want their players to excel and win.
Cellucci works with the guards and emphasizes controlling the tempo of the game. "I want to be a players' coach. I have high expectations and push them to levels I think they can achieve."
Furey teaches strategy and skills with an emphasis on defense. "What matters isn't how many points you score but how many you give up. Offense sells tickets, but defense wins games."
Ruxton takes a cerebral approach. She loves analytics and studies the stats. Her players always know the opponent's best foul shooter and which starters are left-handed. "My biggest emphasis is outsmarting your opponent. Make smart decisions, and don't force things. If you outsmart your opponent, you'll put yourself in a good spot."
Regarding the Knights' biggest Atlantic East rivals, all four admit that the games they've circled on the schedule are with Cabrini and Gwynedd Mercy. "It's a toss-up between Cabrini and Gwynedd," says Ruxton. "Cabrini is always good and very well coached. With Gwynedd, you know they'll be ready to give you a hard-fought game."
She gets no argument from Leicht. "Gwynedd Mercy and Cabrini are the ones we always go head-to-head with."
The goals for this year are exactly what players want to hear from their coaches. "We want to contend for a championship," says Cellucci. "We want people to know what Neumann's all about, make some noise in our conference, and put the team on the map again."
Ruxton underscores the point. "The goal is always to win the championship and, this year, prove people wrong. Preseason, we were ranked sixth out of seven Atlantic East teams, and that leaves a bitter taste in your mouth. You want to finish higher in the seeding."
The bonus for Head Coach Mary Beth McNichol of having assistants who know the culture is staff chemistry. All of them work well together, and two of the women are best friends. "Colleen and I played together," says Ruxton. "She was in my wedding, and I was in hers."
"I cannot say enough about what it means for our program to have four female assistant coaches on our staff who are all NU alumni," says McNichol. "They are true role models for our current players, and they are the foundation for building our program, especially with prospective student athletes."