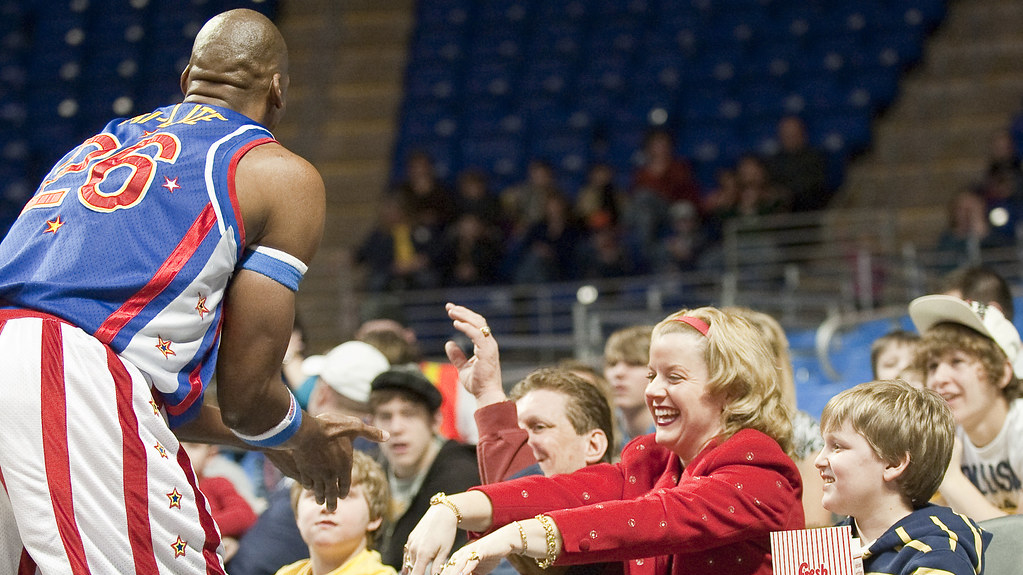 It almost seems like the premise for a television show or feature film: North Philadelphia kid, plays basketball for a DIII university, and grows up to be a member of the larger-than-life Harlem Globetrotters. For Mark Blount '15 this is his new reality, and he still pinches himself daily.
For the past six years, Blount played for the Globetrotters' opponents, the All-Stars (formerly the Washington Generals). On June 6, 2021, he was moved over to the Globetrotter roster.
"I honestly didn't believe it. I was thinking that I used to pray for times like this and now I wear the red, white, and blue. My mom cried when she found out," Blount said.
Since July 4, Blount and the team have been performing in England. His schedule includes two games, or performances, a day from Tuesdays through Sundays. The Globetrotters are very well known abroad, and all of their performances have sold out.
"We practice and work out every day. As a basketball player, we have to make sure we're in tip-top shape," he said. "I plan to stay around for as long as I can. This is our 95th year and I want to stick around for the 100th year celebrations."
As far as life after basketball is concerned, Blount is already making plans for his future, both professionally and financially. He owns properties and has started a business.
Blount will be returning to the states this month and will get a break from playing until December. He's looking forward to seeing his family and friends back in Philadelphia and plans on attending Neumann University's Homecoming celebration in October.
For a kid growing up in the inner city, who fell in love with the game at an early age, Blount is truly living his dream. But he never takes his position for granted and plays every game to the best of his ability – for himself and the fans.
"For us, it goes way deeper than just basketball," he explained. "We're creating memories for our fans."