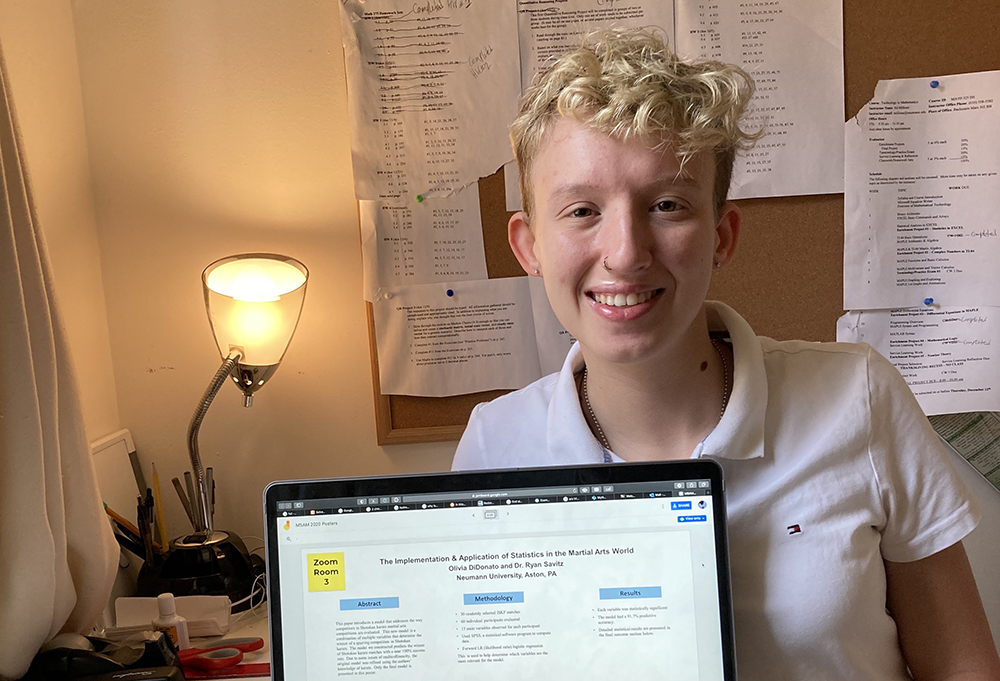 Back in the spring, Olivia DiDonato, a mathematics and pre-engineering major, qualified for a Clare Boothe Luce Undergraduate Research Scholar Award to investigate how mathematics might identify martial arts skill.
Last weekend, the award and her hard work paid off. DiDonato and Ryan Savitz, her faculty mentor, made a virtual poster presentation at the Midwest Sports Analytics Meeting, a one-day conference promoting faculty, graduate, and undergraduate research in sports analytics. The November 21 conference was hosted by Central College in Pella, Iowa.
Entitled "Predicting the Outcome of Shotokan Karate Matches," the DiDonato-Savitz poster proposes a predictive model that uses various skills performed by the competitors. The two researchers collected data on a large set of karate skills from 30 matches. They used stepwise logistic regression (a method of building a model by adding or removing predictor variables) to determine the subset of these variables that best predicted the matches' outcomes.
Their final model predicted match outcomes with nearly 92% accuracy, using only the skills of punches and counterattacks (both of which were statistically significant). One area for the pair's future research involves developing a single metric from these skills that will succinctly measure a participant's skill level.
Shotokan is a traditional form of karate. It originated in Okinawa, a small island south of Japan, and became popular in the 1950s. As a traditional, weaponless martial art, Shotokan is founded on basic techniques of punching, striking, kicking and blocking and emphasizes improvements in character and mental discipline as well as physical skill. It stresses lifelong training for a healthy mind and body.
"I have trained in Shotokan Karate for about eight years of my life and am a first-degree black belt," says DiDonato, a sophomore. "I recently was offered a job as a martial arts instructor from my old teacher but had to decline because of my course load from school."
The conference accepted just eight poster presentations. Others were on a wide variety of sports: football, volleyball, soccer, basketball, cornhole and golf.
The Clare Booth Luce grant stipulated that DiDonato devote 150 hours over the summer to research, collect data and write the findings in a paper on a topic of her choice. Awardees received $5,000.