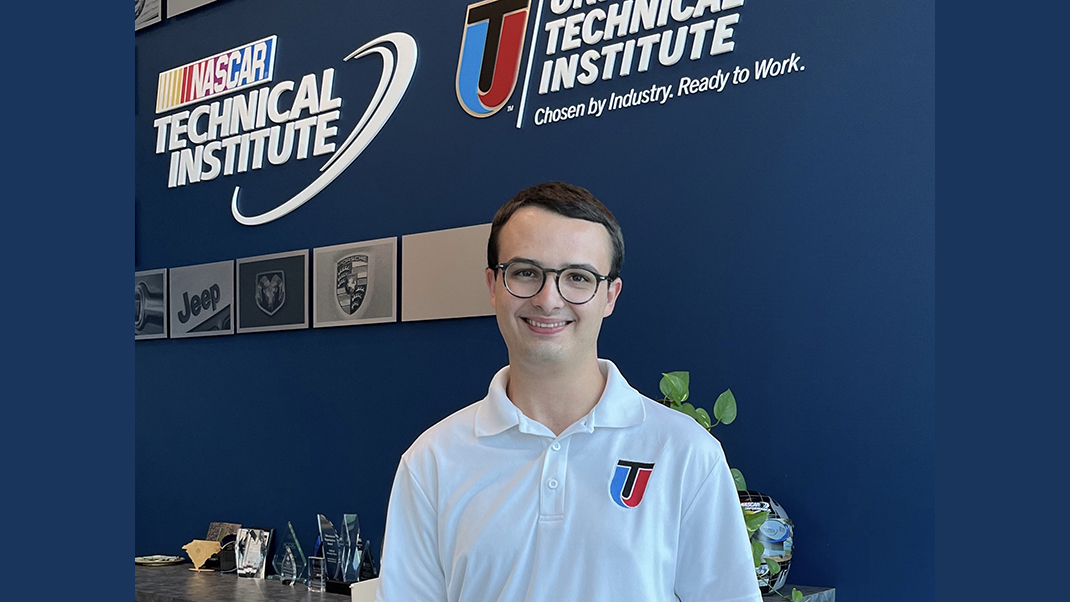 Matt Dopp humorously describes himself as an unmotivated high school student who came to Neumann University on a whim. He certainly flipped the switch when he began his studies as a Sport Management major in 2016.
Dopp's passion was NASCAR, and he dreamed of a career in the car racing industry. While at NU, Dopp listened intently to his professors, specifically Dr. Julie Lanzillo and Dr. Caleb, when they offered career advice and set up informational interviews with professionals in the sport industry, and collected internships like some people collect trading cards.
Dopp interned for four years at Dover Motor Speedway in Dover, Delaware, and he managed to complete a slew of internships while at NU, including experiences with:
Ed Snider Youth Hockey Association Foundation
Leigh Valley Phantoms Hockey
Philadelphia Union
Villanova University Basketball Team
Philadelphia Flyers
Wilmington Blue Rocks
These experiences led him to a job in the NASCAR industry, working as an account manager for the NASCAR Technical Institute in Mooresville, North Carolina. His journey to success was anything but ordinary.
"I was adamant about it. I grew up around racing and wanted to work in NASCAR," said Dopp, who is from the Poconos, home of Pocono Raceway.
Dopp graduated in 2020, just as COVID was wreaking havoc on the world. The job market was in upheaval. He was at home in Mountain Top, Pennsylvania, applying for jobs but had no success. He decided that if he wanted to work in the NASCAR industry, he needed to relocate to where the action was – Charlotte, North Carolina – the birthplace of NASCAR.
Dopp has a dry wit, a tremendous sense of humor, and a self-deprecating attitude that wins people over from the start. So, it would be no surprise to his friends that his first job in the "race car" industry was selling cars at a Mazda dealership in Huntersville, North Carolina.
"I randomly started applying for any job in the Charlotte area and got a call from the dealership. I decided to take the job, and if it didn't work out, I'd move back home. But at the same time, I was still building my connections and letting people know that I lived here now," Dopp said of his relocation. I actually ended up winning employee of the month for selling the most cars!"
A few months into his stint as a car salesman, Dopp connected with Patrick Stewart, a Penske Racing team member with whom he had done an informational interview while he was a student. His connection led to an interview with Penske and resulted in another door opening in August 2021.
"Because of (Penske's) great relationship with NASCAR Technical Institute, they told my current boss about me, and he reached out, and now I am the account manager of business alliances," Dopp explained.
Those NU internships were the tipping point in his hiring. Dopp recalls his current boss telling him that he probably would not have hired him if he hadn't seen the list of internships on his resume.
The NASCAR Technical Institute is part of a larger company called the Universal Technical Institute which has 14 campuses across the county. Each campus offers technical training to young adults, and the NASCAR campus provides training specifically for the car racing industry.
Dopp's job involves securing sponsors for the program. As with many industries, car racing teams are experiencing a lack of candidates for job openings. Dopp works to expose students to the numerous companies that work in the NASCAR industry. One of the perks of his position is attending races around the county, complete with credentials and box seats. To date, he has gone to seven and plans to attend a few more before the end of the year. Truly a dream come true for a kid that grew up watching races near his hometown of Mountain Top, Pennsylvania.
"We really keep NASCAR running. I go to a good number of races, and I'll host students and key employees from our campuses. We get to tour the garages and see the mechanics and engineers that work for NASCAR," Dopp said. "I'm very lucky, blessed, I guess is the word."