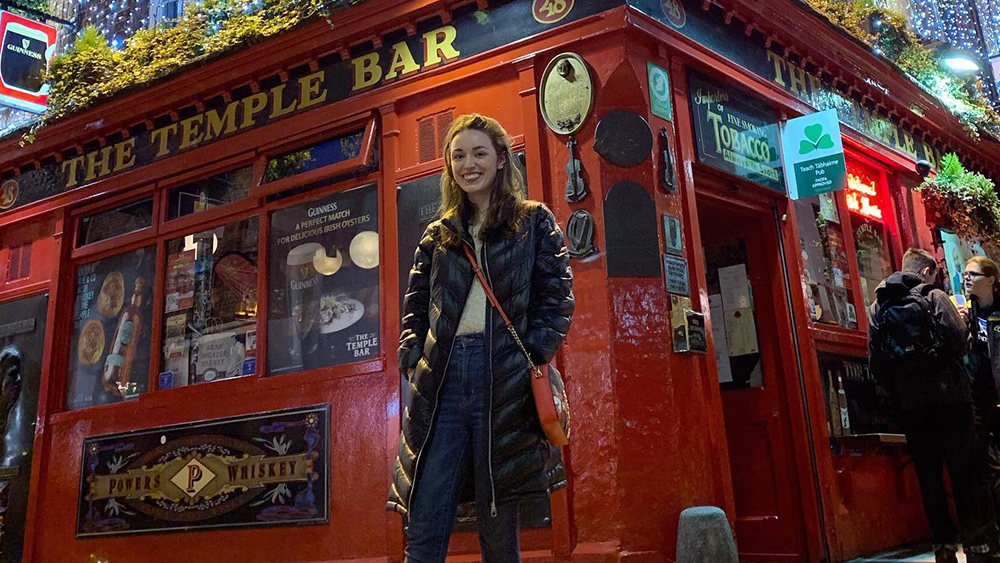 Maureen Breslin was faced with a difficult decision in the summer of 2020. She had recently graduated from Neumann University with a degree in Communication and Digital Media. Her post-graduation plans included attending grad school in Ireland at the National University of Ireland, Galway. However, as she prepared to travel abroad, the pandemic continued to rage, and she had to make a very hard decision.
Traveling abroad, specifically to Ireland, was not foreign to Breslin. She had just returned from the Emerald Isle in February of 2020 after interviewing for a scholarship at the university. In addition, she has family living in Ireland whom she has visited often while growing up in Broomall, Pennsylvania.
While she realized that attending a grad program in Europe during a pandemic would not be what she had envisioned, she decided it would still be worth the risks. In September 2020, Breslin began her studies working toward a graduate degree in Journalism at NUI Galway.
The 12-month program required an internship and for an aspiring journalist, Breslin landed a stellar one. In May of 2021, she began interning for Politico, a political journalism company based in the United States that covers politics and policy both in the U.S. and internationally. It is a web-based operation.
"I applied for a bunch of stuff," Breslin said about Politico. "They interviewed me over a Zoom-type service, and they gave me a writing test and a social media production test."
Breslin was assigned to Politico's Brussels office in Belgium and has been working there all summer. Her title is "production intern" and she published her first article on July 5. For the story, she covered a pride march in the Georgian capital of Tbilisi. It was titled "European Countries Condemn Violence Against Tbilisi Pride March."
"I was really excited, and I sent it to my parents and all of my friends," Breslin said about the article.
Since her debut story, Breslin has also written about other European countries violating human rights.
In addition to writing articles, Breslin works on the digital side of the business, producing social media content and graphic design.
Traveling is one of Breslin's passions and when she first came to Ireland, travel was restricted. Fortunately, she was able to travel to several countries (Portugal, Germany, Denmark, and Luxembourg) this summer as restrictions were eased.
Breslin is currently working on her dissertation, a requirement for the master's in journalism program, and will graduate from NUI Galway in November. She is currently interviewing with CNN for a streaming subscription service position that would take her to New York City or Washington, DC.