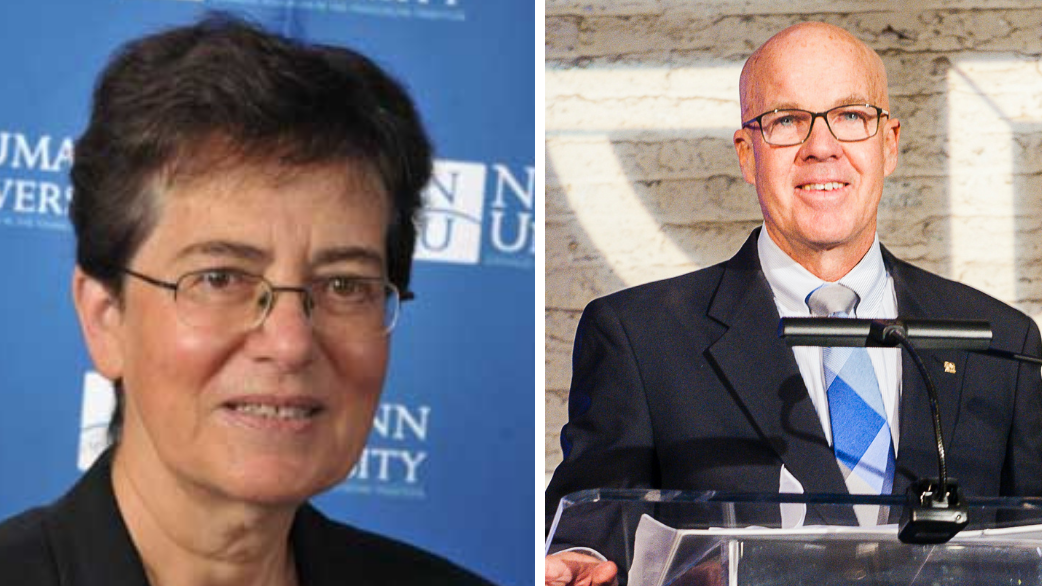 Neumann University will celebrate the Class of 2022 on May 14 with two separate ceremonies. This year marks the 56th commencement for the university. The day includes a ceremony for graduates, a ceremony for undergraduates, and the conferring of two honorary degrees.
The festivities begin with the Baccalaureate Mass on Friday, May 13, at 6:00 p.m. in the Bruder Gym. On Saturday, May 14, the graduate student ceremony begins at 10:00 a.m. in the Mirenda Center, followed by the undergraduate ceremony at 1:00 p.m.
Honorary degrees will be presented to Sr. Marguerite O'Beirne and John R. McConnell, founder and president emeritus of Cristo Rey Philadelphia High School.
McConnell retired from Deloitte Consulting in 2008, after 27 years with the firm, to lead the founding of Cristo Rey Philadelphia. He is a graduate of Georgetown University and the Wharton School of the University of Pennsylvania.
Cristo Rey Philadelphia High School is an innovative model of college-prep education that was formed out of a unique partnership of local educators, businesses, and universities.
Cristo Rey is designed and operated exclusively for students who could not otherwise afford a private education. The Cristo Rey curriculum combines rigorous academics with work internships in businesses where college-educated adults mentor the students. The work-study program accelerates the students' development, and the wages they earn help pay for the cost of their education.
Sr. Marguerite, a familiar face to all, served the Catholic Church in a variety of educational roles for nearly 60 years before she retired on July 1, 2021. Most recently, she was Vice President for Mission and Ministry at Neumann University from 1997 to 2021. Her pervasive presence there – chatting with students in hallways and attending hundreds of athletic events and student activities – established her as one of the most beloved figures on campus.
Before arriving at Neumann, Sr. Marguerite was principal at McCorristin Catholic High School, now Trenton Catholic Academy, for 12 years. Earlier, she was the coordinator of education for the Sisters of St. Francis of Philadelphia, a post that took her up and down the East Coast visiting Catholic schools.
Growing up in Cloonloo, County Sligo, Ireland, she was the oldest girl in a family of six children and journeyed to the United States when she was 16 years old to join the congregation of Sisters. At the beginning of her new life of service, Sr. Marguerite was an elementary school teacher and a junior high school teacher and administrator. She first entered the classroom at age 19, teaching second grade.
A 1970 graduate of Neumann University (then Our Lady of Angels College), Sr. Marguerite also holds a Certificate in Pastoral Ministry from Boston College (1996), a P.D. in Administration and Supervision from Fordham University (1983), and an M.A. in English from Millersville University (1978).