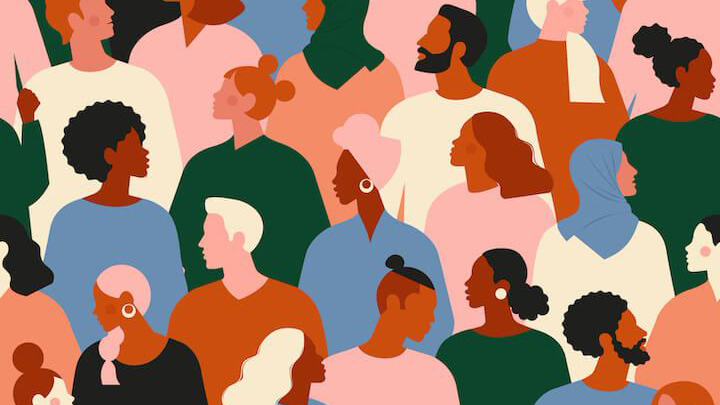 Are representations of racial groups in the media fair and accurate? What about media depictions of gender, age, class, sexual orientation, ethnicity, and disability? In CDM 226: Race and Diversity in Media, students are exploring why these images matter, how they are constructed, and whether they reflect reality.
In his course description, Professor Janis Chakars writes: "Two facts are clear. First, our region, as with the United States as a whole, is becoming more diverse. After decades of decline, Philadelphia's population is growing again driven by new groups of Hispanic and Asian residents. Census researchers predict white people will be a minority in the country by 2045. That is within the lifetime of every student at Neumann University.
"Second, in a country of over 300 million or city of over 1.5 million, we will never come to know all of our fellow citizens. We will rely on media to understand our communities, national and local. Media will define the peoples of our nation, accurately or inaccurately, fairly or unfairly, prominently or not at all. Media will play an important role in how we understand each other."
Chakars is guiding his students to critically examine media images and conduct their own analyses. They will explore the meaning and production of identity in the context of the key Franciscan value of reverence.
"I was interested in the course because it was never offered ... in academic spaces like high school," explains Alexis Beckham, a student in the class. She recalls that the topic "was always labeled as 'too sensitive' or not appropriate to talk about in school. I feel these issues are very important and need to be addressed in order to face the real world."
Student Alekzander Ruszkai agrees. He believes in "the importance of diversity and the representation of all sorts of people in media," adding that "This course seemed like the perfect place to expand my scope of media, the different ways that people can be portrayed, and how important it is that they are portrayed in the right way."
The course, which fulfills the diversity requirement in the core curriculum, will also include a special "Black history as oral history" radio project. When it comes to Black history, Chakars explains, the media, like teachers, tend to focus on the famous. Oral history, however, shows the dignity and significance of everyday people.
"With this in mind, we will create a show for WNUW that addresses the African American experience in a special and educational way," he says.
Assisting students with the oral history radio project will be guest interviewee Alvin Randall, who worked as a station engineer at 710 WOR in New York City for decades, including years when African Americans in the business knew it as "Whites Only Radio" in terms of on-air talent and programming.