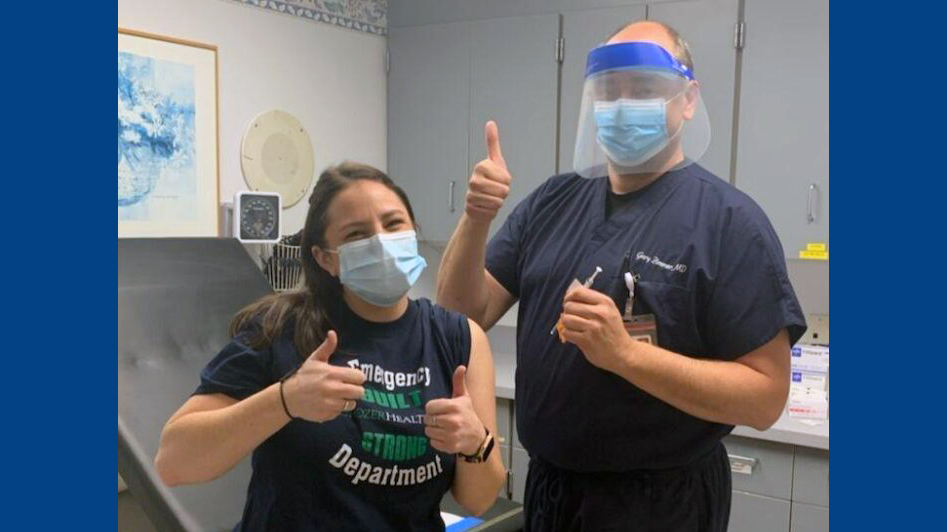 Crozer-Chester Medical Center ER nurse Megan George '15 has experienced many firsts in the past 10 months. Last March, she was the first nurse to treat a confirmed COVID-19 patient in the state of Pennsylvania, and on December 21, 2020, she became the first nurse in Delaware County to receive the Pfizer-BioNTech COVID-19 vaccine.
George, who lives in Springfield Township, said receiving the vaccine was similar to getting a flu shot. She is scheduled to get the second dose on January 15.
Last month, the Delaware County Daily Times ran a story about George receiving the vaccine from which she experienced an outpouring of support from family and friends. She said this support has been incredibly encouraging.
George is a proponent of getting vaccinated and said once she researched the vaccine, she realized that this is our opportunity to get the virus under control. However, she respects those who decide not to get vaccinated.
"As a health care provider, this is our opportunity to fight back at the virus. I would tell people in my age group to definitely get it," said George, who is 29 years old.
George was drawn to nursing during her high school years when she helped take care of her grandfather, who experienced a traumatic car accident and needed around-the-clock care in her home.
"I saw everything they (nurses) did for my grandfather, and I helped them take care of him. Ever since then, I wanted to be a nurse," George said.
Working in the ER during a pandemic has been extremely challenging for George and her fellow health care workers. While she loves her job, she has at times been pushed to her max.
"It has its days and moments, and we are hit with things we're certainly not used to, but I work with my best friends and the best providers," said George. "We have such a strong team and having that support system means everything to me."
George lives with a fellow NU alumna, Shannon Bradley '14, whom she credits as being a big part of her support system. Many nights George comes home from her shift in the ER and opens up to Brady about the challenges she faces at work.
"Shannon has been the best support to me. She's like an angel," said George.
As challenging as working in the ER can be, George still has a passion for her work. She likes the uncertainty of what each day will bring and describes herself as an "adrenaline junkie."