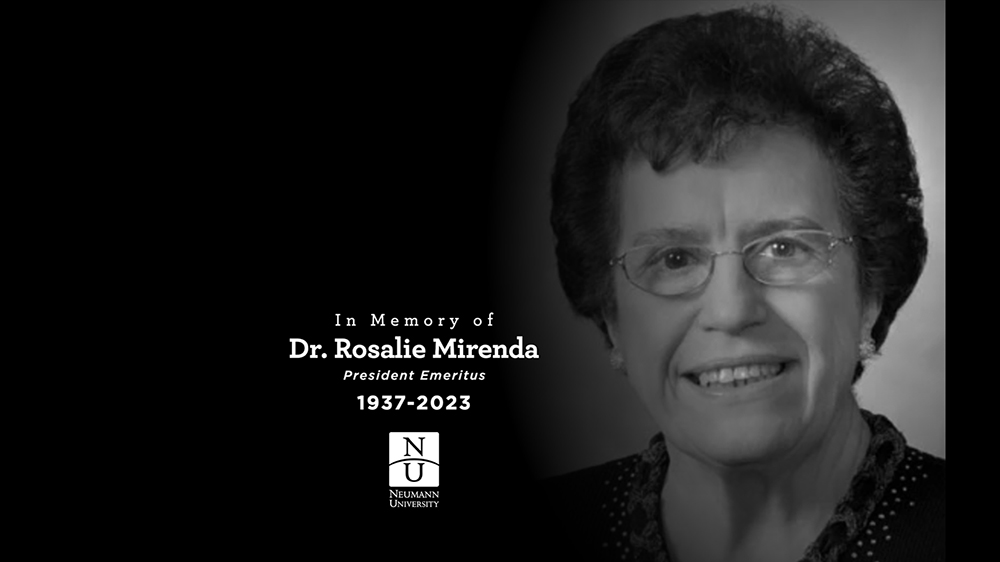 Dear Friends,
It is with a heavy heart that I share sad news of the passing of Dr. Rosalie Mirenda, President Emeritus of Neumann University. Rosalie served students with passion and committed herself to living the mission and values of Neumann University for over four decades as a professor, academic leader, and for twenty-one of those years, as president.
During her more than two decades of leadership, the University expanded its academic programs, became a residential campus, strengthened its fundraising capacity, added academic and recreational facilities, broadened its community service outreach, launched new athletic teams, captured national championships, and achieved university status – all the while remaining true to the Catholic Franciscan mission that has been at the heart of Neumann University since 1965.
Her devotion to Neumann University and the Roman Catholic Church was remarkable, and she was recognized by numerous organizations for her steadfast faith, distinguished character, and tireless service.
Rosalie's final journey on Wednesday, May 17, will take her from her parish, The Church of the Incarnation in Mantua, New Jersey, through the campus, past the John Neumann statue, the Mirenda Center, and Our Lady of Angels Convent. We expect the procession to arrive on campus (the location Rosalie always called "the holy hill") between 1 p.m. and 1:30 p.m. on that day. We welcome you to join us for the campus procession. If you plan to participate, please meet at the St. John Neumann Circle by 12:45 p.m. After departing the campus, the family will travel to her final resting place for a private burial service.
Here is the link to her obituary and service information:
Rosalie's legacy and impact on this University and the Church will be felt for years to come. We encourage you to share Dr. Mirenda's impact and your favorite memories with us on social media.
Please keep her family in your prayers.
May she rest in peace.
Sincerely,
Dr. Chris Everett Domes
President
Neumann University