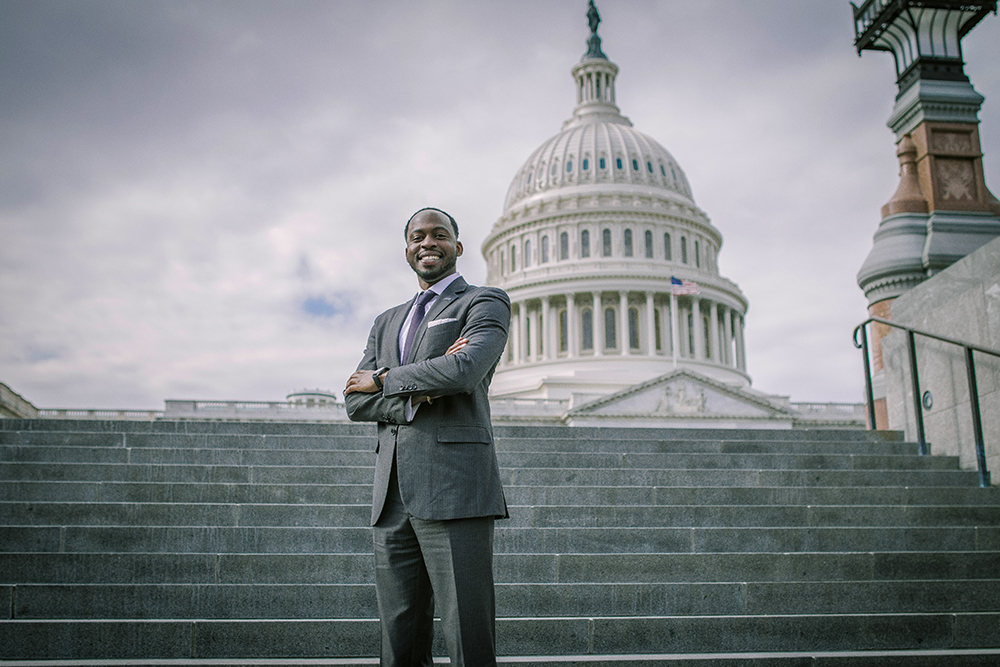 Stephen Williams '09 began his educational journey on Neumann University's holy hill, and today he is continuing his professional journey on Capitol Hill. Williams was recently appointed as a professional staff member on the House of Representatives Homeland Security Committee. He feels he has landed in a place where he can really make a difference – Washington, D.C.
"I've been wanting to be here in D.C. since I was 22," Williams said. "It's awesome being here. I love history and being on Capitol Hill is just a powerful feeling."
Throughout his professional life, Williams has been laying the groundwork for a career in the nation's capital. After graduating from Neumann with a BS in Business, the Wilmington native began working at Barclays Bank in Newark, Delaware. His next position was at Bank of America where he worked in global consumer and small business banking.
In 2011, Williams entered the political arena working as a personal aid to United States Senator Tom Carper (DE). In this position, he served as a liaison for fundraising assistance, organizational development and joint initiatives with local organizations.
"That was the best job I ever had and the hardest," Williams recalled.
Williams stayed on the political side for his next position as external affairs manager for the Mayor of Wilmington, Delaware. After Williams received his MBA from Villanova University in 2015, he returned to the business world, working as a vice president for Wells Fargo.
"I wanted to be somewhere between business and politics and work with people who are key decision makers," he said. "My career was leading to lobbying or governmental relations."
In December 2016, Williams made the jump to government relations and founded a political lobbying firm called The Bonoman Group. The professional connections he made paved the way to his current position with the Homeland Security Committee.
"It's all about networking, the power of connections and who you know. I knew some folks who were working with different Representatives that were looking for young people," said Williams.
A colleague of Williams recommended him to Bennie Thompson, U.S. Representative from Mississippi and Chairman of the Committee on Homeland Security. Thompson appointed Williams to his committee.
According to Williams, the Department of Homeland Security is the third largest agency in the country. The Homeland Security Committee is the overseeing body to the Department of Homeland Security.
In his new position, he is responsible for researching and developing policies that help improve America's national security infrastructure. In addition, he meets with stakeholders who are involved with security matters for the country.
"I have a passion for being able to get things done between the two sides; regulatory and fiscal. You need those sides to work together," he said.
Williams is not planning to rest on his laurels. His future may include law school, managing his own governmental relations firm or even a run for political office. However, his main goal relates back to the core values that he learned at Neumann University.
"I really would like to influence and inspire others," he explained.