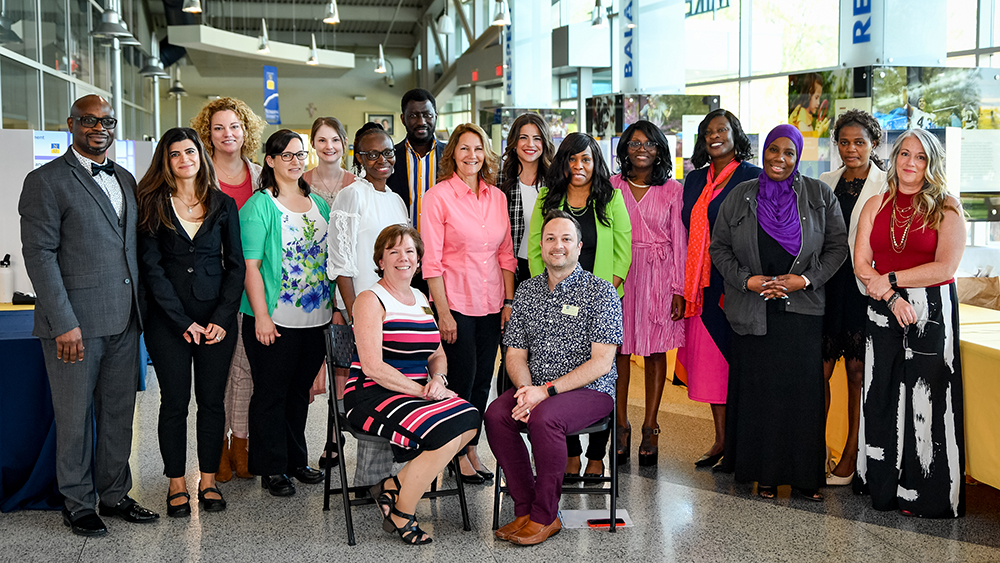 Completing a master's degree is a challenge regardless of the major. However, the students graduating this weekend with their Master of Science Degree in Nursing: Adult-Gerontology Nurse Practitioner-Primary Care have faced obstacles that no one expected.
"Every graduating class faces some type of adversity, but over the last three years, these students have graduated while working through a global pandemic. Many of this year's Master of Science in Nursing class have faced extreme personal adversity. Yet, despite illness, hospitalizations, loss of loved ones, and more, this class has remained dedicated to their studies and navigated these difficult times with grace," said Judy Neubauer, assistant professor and director of graduate nursing programs.
These graduates recently participated in a poster presentation exhibit. The topics chosen reflected the care and passion that each MNS candidate has toward their profession and their patients.
MSN student Erica Pasquarello presented "Pre-Participation Physicals: A Primary Care Update." The focus was on student-athletes and the need for further screenings before participating in sports. As a cardiac/surgical nurse at the Hospital of the University of Pennsylvania, Pasquarello treated young patients who suffered sudden cardiac arrests (SCA).
"I want to take the extra step and ask if the athlete needs further testing before they get on the field. The American Heart Association doesn't recommend EKGs for physicals, but it's needed to gather more information and safely clear athletes," she said.
Pasquarello, who received her undergrad from Widener University, said she always knew she wasn't done with her schooling after getting her BSN. Trying to fit graduate school into her already busy schedule was a struggle.
"I was scared to start school again because this was completely different than getting my undergrad degree. I was able to stay full-time at my job and saved my vacation for clinicals," she said. "I am working now, and when I look back, I wonder how I even did this."
Emmanuel (Manny) Amoah, a fellow MSN candidate, presented "Amputation Related to Type 2 Diabetes Among African- American Men." As director of nursing for Prestige Healthcare, Amoah works in long-term health care and has seen numerous amputee patients. He estimates that 80 to 90 percent of these patients are African American males.
"African American males have a disproportionate rate of developing type 2 diabetes, and this could lead to amputation. Most who are diagnosed are diagnosed late, and most don't follow up with a care plan. Many don't take it seriously or have the means, like money or transportation, to begin treatment," he explained.
Amoah hopes to change jobs after graduation and work in a primary care office specializing in diabetes. Looking back at the MSN program, he is grateful for the small class sizes and professors like Neubauer and Dr. William Pezzotti, who were excellent resources while he juggled family, work, and school.
Caroline Witmer is receiving a post-master's certificate from the nurse practitioner program. Her poster presentation focused on "Palliative Care Timing and Quality of Life." As a dialysis nurse, Witmer works with patients considering palliative care and specialized medical care for people with serious illnesses.
"I've seen a lot of instances where we wait a long time to talk about palliative care, and then we don't have the time to have those gentle conversations," she said. "Primary care nurse practitioners can be ideal partners in managing palliative care due to holistic, compassionate care training."
Like many of her classmates, Witmer doubted if she could find a nurse practitioner certificate program that would fit her schedule. Neumann's program appealed to her because of the assistance the program gave students in setting up clinicals. Most of the other programs Witmer considered did not offer this help.
All three of these MNS students breathe a sigh of relief as their graduation date nears. In addition to starting the program during the pandemic, they each faced and overcame personal obstacles and created friendships that will last a lifetime.
"Our faculty is proud of the hard work and professionalism shown by this group of students, and we are excited for them as they begin their new roles as primary care nurse practitioners," Neubauer said.