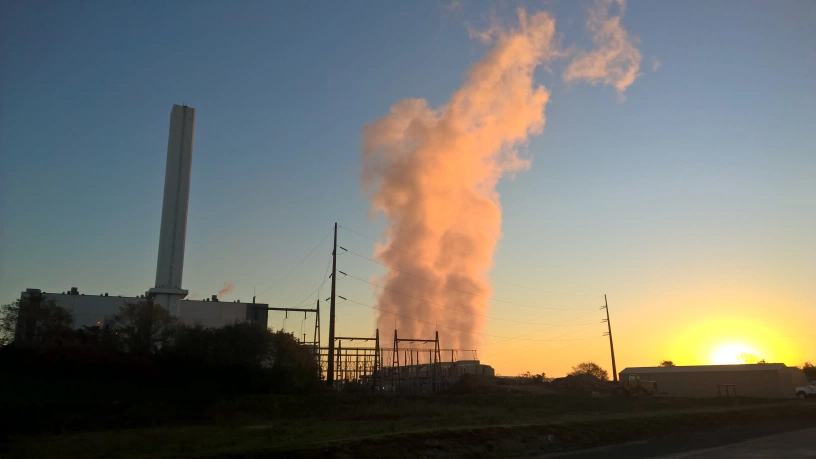 ASTON, Pa. - With the passing of Earth Day this month, the Neumann University community gathered to present on an environmental issue that many in our community may have never heard about. Led by Pat Hutchison (Director of the Neumann Institute for Franciscan Studies) along with students Sophia Parrish and Vinny Taddei, the group hosted experts on the effects of the Chester Covanta Incinerator including Jim McLaughlin, Mike Ewall (Energy Justice Network) and Zulene Mayfield (Conservation Heritage).
Located just under five miles from Neumann's campus in Chester, Pennsylvania, the Covanta Incinerator is the nation's largest trash-burning plant. Every day, the incinerator burns as much as 3,510 tons of municipal waste, releasing dangerous pollutants into the air such as nitrous oxides (NOx) and other toxins. To put things in perspective, most trash incinerators across the country burn less than 1,000 tons of trash per day. Compounding this issue, the Covanta Incinerator also has the fewest pollution controls out of any incinerator in Pennsylvania.
Along with all the environmental issues this incinerator presents, it also poses an ethical dilemma as well. According to the experts, over a century of systemic racism and political corruption has turned the city of Chester into one of the worst cases of environmental racism in the country. Incinerators and toxic companies target low-income areas and communities of color as they are seen as the path of least resistance. The city of Chester contributes just 1.5% of the waste that is burned at the Covanta Incinerator, with most of the trash burned at the site coming from other parts of Delaware County, Philadelphia, New Jersey and New York.
This leaves Chester residents left to deal with consequences of the pollution, even though a majority of the waste is coming from other areas. Those effects from pollution have led to devastating consequences in the community, with children in Chester being three times more likely than the state average to be hospitalized due to asthma. The burning of waste has also been linked to toxins that contribute to cancers, birth defects and learning disabilities.
Despite the dire circumstances currently facing Chester, the panel was clear that there is a way forward to eliminating this toxic waste polluting the air. The answer is a Zero Waste System, which is defined as "the conservation of all resources by means of responsible production, consumption, reuse, and recovery of products, packaging, and materials without burning and with no discharges to land, water, or air that threaten the environment or human health."
Included in the presentation were ways students, faculty and staff at Neumann can help with a Zero Waste solution. Parrish spoke from a student's perspective, citing food and packaging choices, avoiding unnecessary transportation, research projects, community engagement and establishing direction for future students via restarting an environment club as ways that students can do their part.
"I found being a part of this panel not only educational but empowering", said Parrish. "Before I got involved in this Earth Month project, I had not known about this Chester Incinerator at all. Through my own research, attending local meetings about this topic, speaking with avid members of the community for solving environmental justice problems, and writing an argument paper on the topic, I got the opportunity to really immerse myself in my community and appreciate the world around me."
The rest of the panel also included ways to reach zero waste, with the most important of them being a list of recycling tips. The biggest advice the group gave was to avoid "Wish-Cycling" or tossing trash into the recycling bin that we wish would be recycled. This type of trash in recycling systems causes a contamination of the recycling stream. Other tips on recycling included keeping lids on plastic bottles when throwing them away, rinsing and drying all food and drink containers before discarding them and avoiding single-use plastic wherever possible.
The full presentation can be found via the link below.