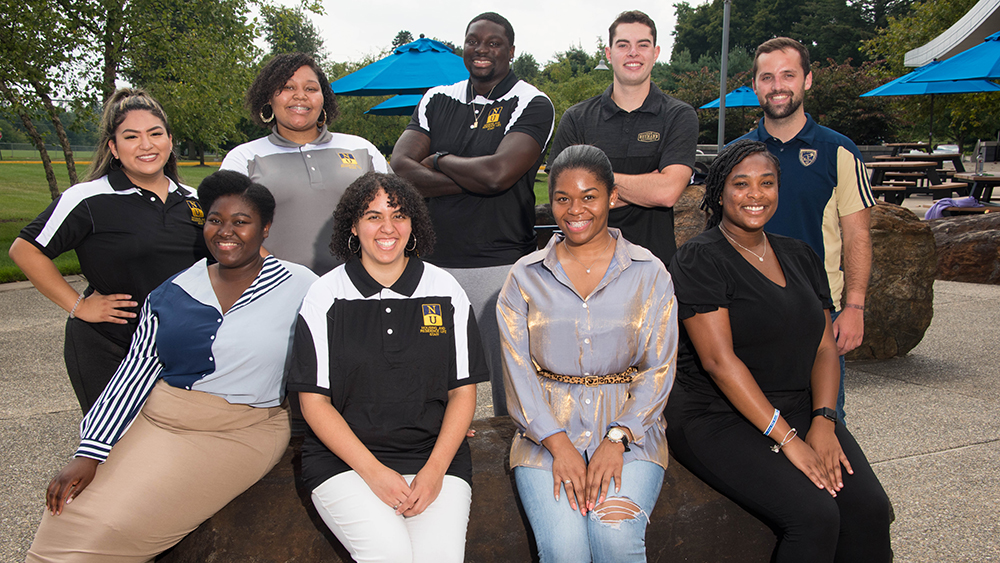 In the fall of 2020, the first three trailblazing graduate assistants in the history of the university worked on campus. Fast forward one year and the number of GAs has jumped to nine, all working in the student affairs unit.
According to Dr. Chris Haug, vice president for student affairs, the presence of graduate assistants has brought a welcome culture change to campus. The nine young women and men will work with his team to expand student activities, provide leadership opportunities, and offer resident students experienced counsel for navigating college life.
"When you have graduate assistants on campus, it creates a level of learning that is fresh, relevant, and timely," he says. "The graduate assistants are infusing those characteristics into our student affairs operation. Practically, it's also giving us more hands, more staff for students to connect with."
Fran Reed, vice president for enrollment management and marketing, agrees and notes that the program makes Neumann more attractive to prospective students. "From an enrollment standpoint, it makes our graduate programs more competitive with those of other schools that are offering graduate assistantships and provides an opportunity for graduate students to fund their education while gaining valuable work experience ."
A graduate assistantship is a student employment opportunity for graduate students. Graduate assistants work a set number of hours per week and, in return, receive a tuition waiver, a monthly living stipend, and, in some cases, housing. Variations of this concept include teaching assistants, research assistants, and coaching assistants.
Haug is quick to emphasize, however, that these positions are much more than part-time jobs. The campus responsibilities that a graduate assistant has must connect directly to the academic field that each GA is studying.
For example, Noah Black is enrolled in the master's degree program in Sport Business. His assistantship in Sora Luna Lounge operations will provide management and marketing experience that apply directly to his graduate studies. GAs in student engagement and leadership activities might connect their work experience to graduate degrees in Education or Pastoral Clinical Mental Health Counseling.
Four of the new graduate assistants are hall directors: Ashley Barba in Flynn Hall, Ashley Carter in O'Neill Hall, Meghan Glass in Buoni and Chiara House, and Kim Speller in Cunningham Hall.
Others are Noah Black, Sora Luna operations; Neeka Pharaud, Sora Luna programming; Zybrea Knight and Marty Cortellessa, student engagement and leadership; and Ariyana Thomas, parent, family, and student transitions.
The GAs have committed to work either 20 hours per week (a full assistantship) or 14 hours per week (a two-thirds assistantship).
The program is still in a pilot phase, but Haug sees additional possibilities for graduate assistants in the Counseling Center for Wellness, Student Health Services, and Campus Ministry.
Watch a video interview with Emma Kelly, a graduate assistant in 2020-21.