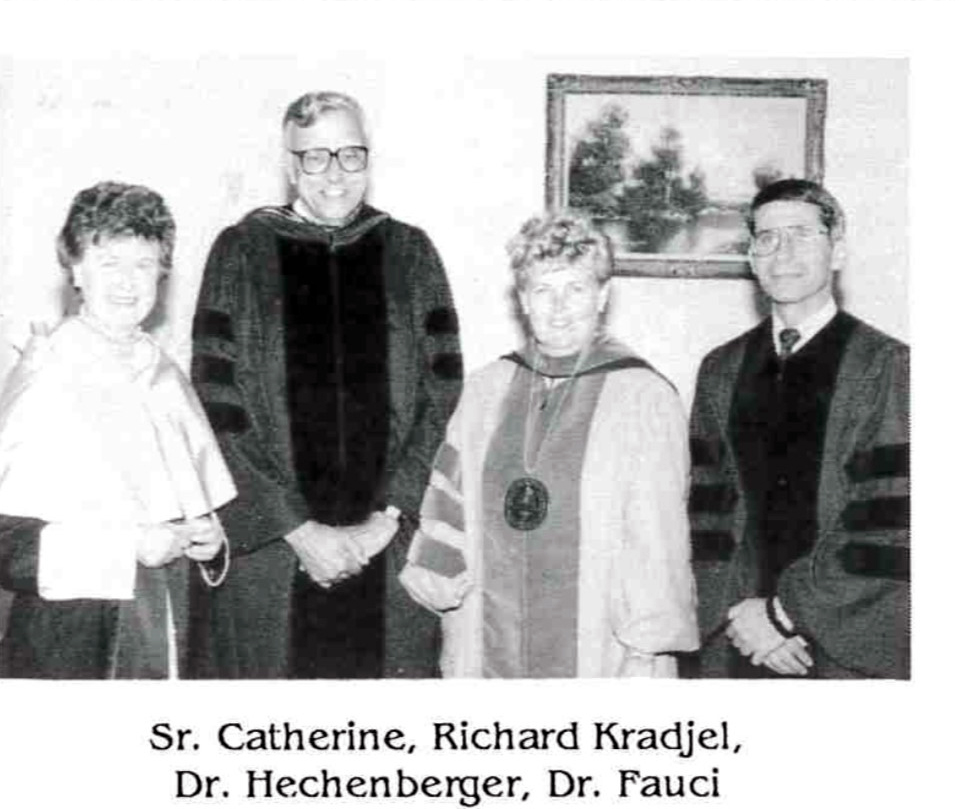 Neumann University recognized the expertise of Dr. Anthony Fauci well before his face became a daily fixture on national television. Fauci, a physician and immunologist who serves as director of the National Institute of Allergy and Infectious Diseases (NIAID), accepted an honorary Doctor of Science degree from the university (then Neumann College) in 1990.
Even 30 years ago, the son of Italian immigrants was the director of NIAID, a position he has held since 1984.
As a physician with the National Institutes of Health (NIH), Fauci has served the nation's public health in various capacities for more than 50 years. He has made contributions to HIV/AIDS research and other immunodeficiencies, both as a scientist and as the head of NIAID at the NIH.
The 1990 Neumann commencement program about Fauci reads, in part, "As a researcher, author, coauthor and editor of more than 650 scientific publications, including textbooks, Neumann College is proud to acknowledge your contributions to the field of science and good health by conferring on you the degree of Doctor of Science, Honoris Causa."
Dr. Nan Hechenberger was the institution's president that year. According to Dr. Rosalie Mirenda, Neumann's president emeritus, Hechenberger and former president Sr. Margarella O'Neill were the initial contacts with Fauci. Hechenberger had come from the University of Maryland College of Nursing and worked closely with the NIH. The Sisters of St. Francis ministered in health care in Maryland and Washington, DC, and were involved in health care leadership. Both women knew of Fauci for his work with HIV/AIDS research and related drugs treatments.