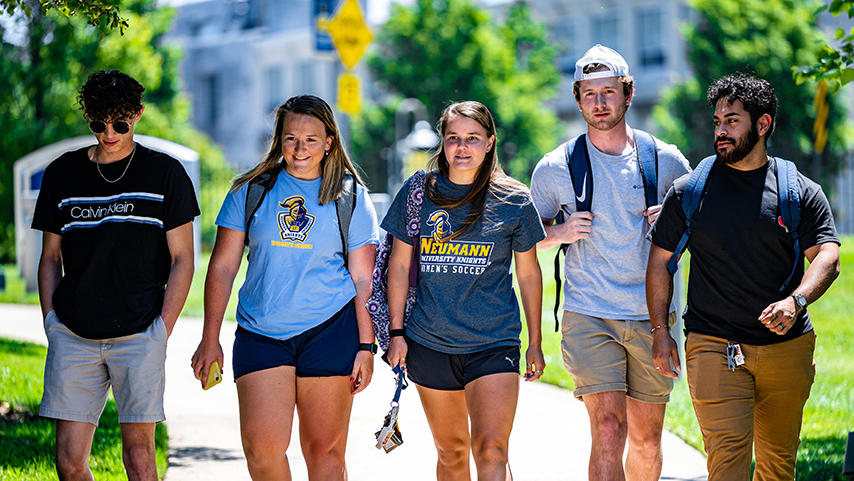 For the third consecutive year, Phi Theta Kappa Honor Society has named Neumann to its transfer honor roll. This list recognizes the highest-rated 25 percent of colleges in the country for creating systems and processes that support transfer students. The 2022 honor roll includes 171 colleges.
Colleges were selected based on their transfer friendliness rating, which includes cost, scholarships, admissions practices, and peer reviews.
Each year more than one hundred students come to Neumann from community, state, and private colleges and universities to continue their education. NU accepts, on average, 11 percent more transfer credits than other four-year institutions. In addition, Neumann awards transfer students higher than average aid to assist in the difficult process of leaving one institution to join another.
Joshua Bitler, assistant director of admissions, transfer, and international outreach, is proud of this recognition, reflecting the university's commitment to transfer students.
"Neumann has continued to invest in its support for our transfer students. We have implemented strategies and new technologies that have increased Neumann University's presence as a transfer destination in the region," he said. "Being named to PTK's Transfer Honor Roll for the third straight year shows the university's commitment to helping future Neumann Knights."
Neumann's merit scholarships for transfer students, based on cumulative GPA, range from $10,000 to $15,000 per year. In addition, transfer students who are members of Phi Theta Kappa may be eligible for an additional $3,000 scholarship.
Phi Theta Kappa is an honor society that recognizes the academic achievement of students at associate degree-granting colleges. The society is made up of nearly 1,300 chapters in 11 nations.