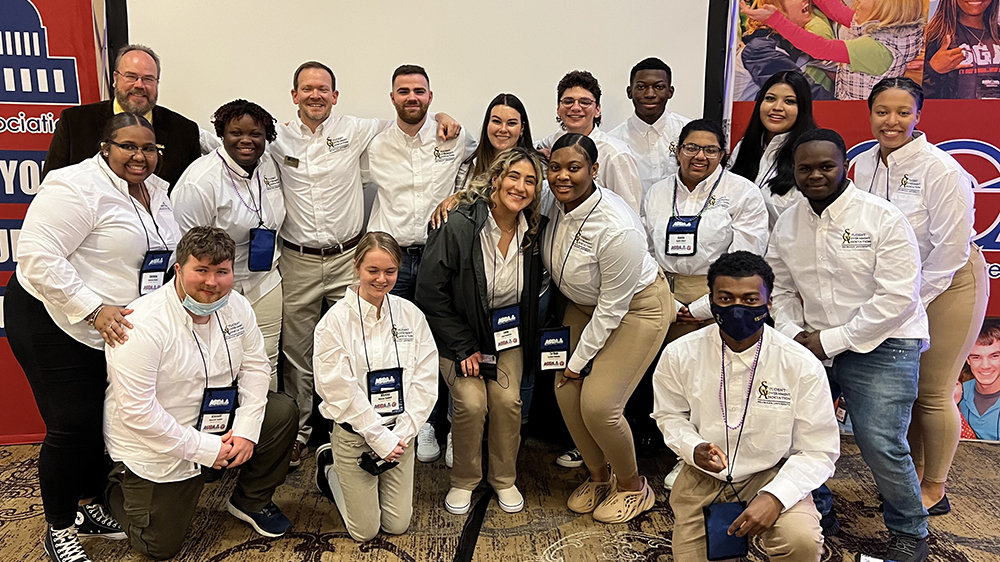 Fifteen members of the Neumann University Student Government Association left the snowy confines of campus to attend a conference in New Orleans on February 4 – 6. Matt Fullmer, director of student engagement and leadership, accompanied the students to the American Student Government Association's (ASGA) training conference.
The goal of the conference was to provide tools to improve student governments. Former student government officers or advisors were speakers who presented more than 20 training workshops and roundtable discussions.
According to Fullmer, this conference was the first ASGA in-person event since the pandemic hit in 2020. He was thrilled to once again offer this type of collegiate experience to Neumann students and watch them come back recharged and refueled.
The mission of the ASGA is to support student government leaders and advisors nationwide. The organization provides networking opportunities, research, and informational resources intended to teach students how to become more effective, ethical, and influential leaders at their college and university.
SGA President Dave Shertel said the group planned to take only 10 members but later decided that the conference would benefit all of the SGA officers and representatives. When the invitation was extended, the majority of these students signed up for the trip.
Students could choose between numerous training sessions, including Student Government is a Bunch of C.R.A.P. (Communication-Respect-Attitude-Professionalism), and Teamwork Makes the Dream Work. For Neumann University SGA Vice President Alyssa Boppell, the sessions provided tools she plans to use with the NU student body.
"The one thing that I took away from this conference was the (training session) thirteen steps to make your student government more successful. Another thing that I learned about was doing student body surveys. As the vice president, I would like to hear from my fellow students on what they would like to see happen here at NU," Boppell said.
Sophomore Shade Hyslop grew personally and professionally while attending the conference.
"I learned a lot about myself and my fellow SGA members during my visit to New Orleans. I had the opportunity to attend an interesting conference that gave me resources and tips to improve as the Sophomore Senator at Neumann University," she said.
While the students spent most of their time attending the conference, they did have the opportunity to check out the city of New Orleans. Of course, the food was a student favorite, but they also got to see a pre-Mardi Gras parade.
"It was awesome. I was really super proud of our Neumann students. We had a wonderful group. Everyone said that," Fullmer explained. "Now we're back on campus, and the real work begins. This experience will pay dividends and will pay its weight in gold for future generations of Neumann students. This was really an investment in the students' future."