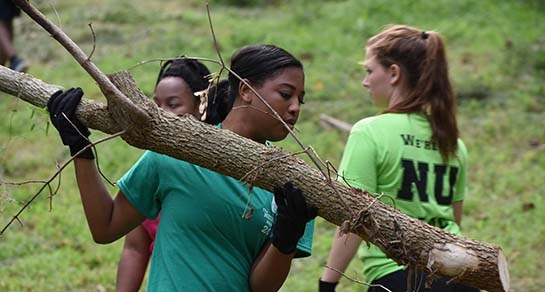 Neumann University students will join others at Franciscan colleges across the country by participating in community service in October. The Association of Franciscan Colleges and Universities (AFCU) is organizing the nationwide initiative in keeping with the Franciscan tradition of service.
October is the focus of the outreach efforts because the feast day of St. Francis of Assisi is October 4. Neumann service projects include:
-

Urban gardening projects and trail repair, weeding and planting at local parks throughout the region during a fall break service immersion trip to St. Vincent de Paul Young Adult Center on October 7-11

-

Serving meals to the homeless at St. Francis Inn in the Kensington section of Philadelphia on October 18 and 25

-

Providing hospitality and meals to residents of Anna's Place (a hospitality center in Chester, offering opportunities for personal and community growth) on October 6 and House of Joseph II (caring for homeless men and women with AIDS in Wilmington) on October 24

-

Helping Overbrook School for the Blind with its annual Alumni Bingo event

-

Volunteering at the Delaware County Fall Festival on October 23

-

Preparing sandwiches for Catholic Charities of Chester as part of Operation Hunger on October 17 and 31

-

Supporting the Fair Acres "Senior" Prom on October 7

-

Assisting Aston and Upper Darby at community day celebrations

on October 1 and 22
Megan Camp, Neumann's director of service learning and community engagement, expects many first-year students to volunteer in October because a half-day of service was part of their orientation program in August. Before their first day of classes, new students spent a morning doing volunteer work at Tyler Arboretum, Newlin Grist Mill, Red Hill Farm, Drexel Neumann Academy, Fair Acres, Nativity Prep and many other locations in the area.
Established in 1997, the AFCU includes 24 member colleges and universities serving more than 50,000 students. The organization seeks to nurture collaboration among academic institutions committed to the Catholic and Franciscan spiritual and intellectual traditions and to promote scholarship and curricula that, in keeping with the vocations of Saints Francis and Clare, address the needs of the poor, attend to the environment, and promote peace.
A complete list of participating schools and their service projects can be found online at www.franciscancollegesuniversities.org.