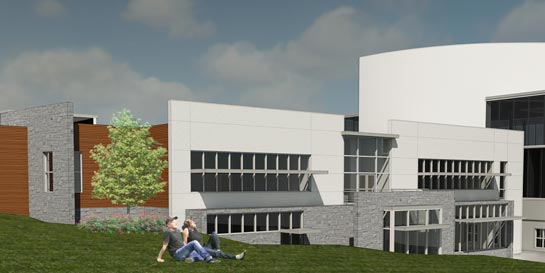 Neumann University has begun construction of a new Health Sciences Center. The new structure, an extension of the Rocco Abessinio Building, will add approximately 17,000 square feet of instruction and lab space to accommodate projected growth in the doctoral program in Physical Therapy as well as in undergraduate programs in Nursing, Athletic Training and the Health Sciences.
The construction schedule calls for the Center to be open in November 2018.
Key components of the project are six physical therapy/athletic training labs, a state-of-the-art nursing instruction auditorium that can accommodate upwards of 315 students as well as a two story atrium with green space and a reflection area.
"Neumann University has decided to undertake this project in anticipation of the dramatic growth that is predicted in the health care industry over the course of the next decade," said Dr. Lawrence DiPaolo, vice president for academic affairs. "With one out of every four jobs that were created last year coming from the healthcare sector, Neumann University is positioning itself to be a center for healthcare careers at both the undergraduate and graduate level."

The additional space provided by the Center will facilitate the education of nurses, physical therapists, athletic trainers, and exercise and nutrition specialists, preparing young men and women to serve in the health care professions in the Tri-State area.

"Neumann has a stellar reputation in the health sciences," said DiPaolo. Nearly 40% of Neumann's first-year students in 2017 have enrolled in just four majors: Nursing, Athletic Training, Biology, and Clinical Laboratory Science.
In the last three years, the pass rate for Neumann nursing graduates on the NCLEX, the exam that determines licensure, has been 95.4%, 90.7% and 91.8%. These pass rates are higher than the national and Pennsylvania rates.