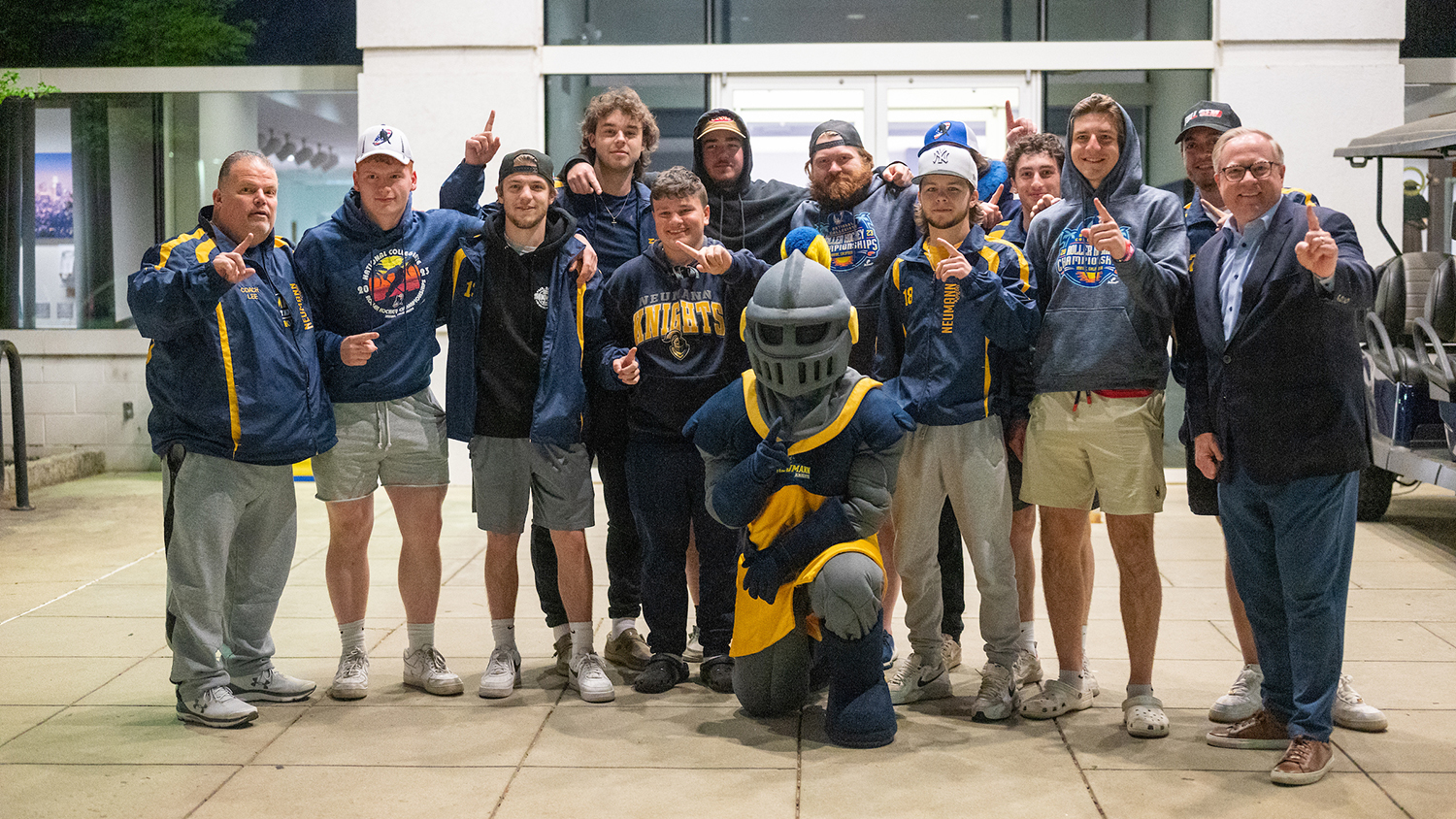 Neumann University won the Division III championship in roller hockey on April 23 with a convincing 9-1 victory over Quinnipiac University at the sport's national tournament in Irvine, California.
The Knights were led by Zachary Deemer, a senior forward from Ridley Park, who had a hand in eight of Neumann's scores. The Business major notched six goals and two assists in the title game.
He led the team in points this season with 118 (72 goals and 46 assists).
Neumann finished the season with a record of 24-1, sweeping through the National Collegiate Roller Hockey Association (NCRHA) competition with seven victories in five days. In the preliminary round to determine tournament seeding, the Knights defeated Hofstra University 7-4, San Jose State University 19-3, and the University of Florida 7-3.
In the single-elimination tournament, Neumann bested California State Polytechnic-Pomona 12-6, Missouri University of Science and Technology 9-6, and the University of Florida 6-5 before crushing Quinnipiac in the championship game.
In beating the Bobcats, Neumann avenged its only blemish in an otherwise perfect season, a 7-2 loss to Quinnipiac on February 18.
The teams played three times in the regular season and in the regional and NCRHA championship matches. Neumann won four times, outscoring Quinnipiac 29-19 in the five contests.
"Hard work pays off," said Coach Lee Strofe, Neumann's assistant director of campus safety, when the team returned to campus one day after capturing the crown. They were greeted by a group of fans, including Dr. Chris Domes, university president.
Reflecting on the successful season, Strofe attributed the achievement to the character of the young men on the team. "The guys bought into the Neumann style of play – controlling the puck and dominating the pace. Before the title game, I didn't have to say anything except that we were playing Quinnipiac."
In addition to Deemer, other standout players during 2022-2023 season include Anthony Putter, a freshman defenseman from Morton who tallied 104 points (63 goals and 41 assists); Andrew McGinley, a sophomore forward from Glassboro, NJ, who notched 75 points (33 goals and 42 assists); and Noah Maikisch, a junior goalie from Toms River, NJ, who recorded an 84.6 save percentage.
The win solidifies Neumann's reputation as a national roller hockey powerhouse. The Knights also won national championships in 2006, 2008, 2015, and 2016. A Drexel Hill resident, Strofe has been the coach for 13 years, guiding the team to its last three titles.
The NCRHA, a nonprofit organization that was established in 2003, invited 20 Division III teams to the national tournament. It also hosted national competitions in Division I and II categories. More than 130 roller hockey teams from across the country are NCRHA members.