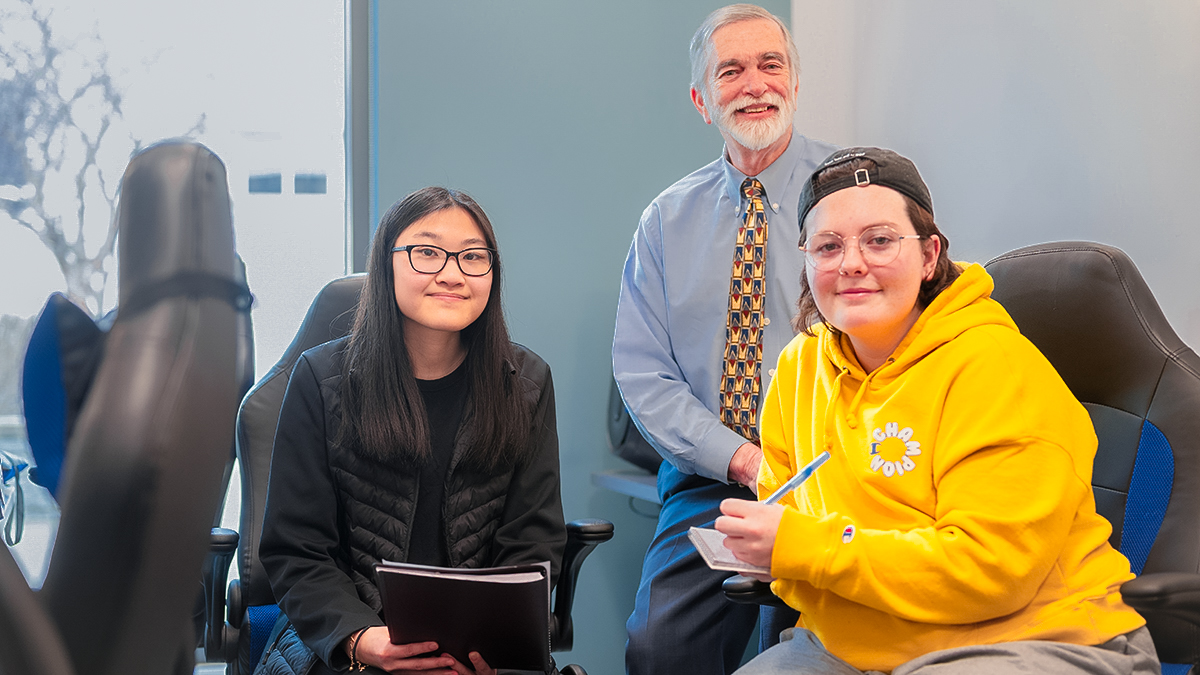 Neumann University's student-run digital newspaper is not new to the university, but the recent life breathed into this communication tool is refreshing. From trending news stories to campus updates to opinion pieces about hot topics, NeuPress is heading toward what a university newspaper should represent.
Earlier versions of the publication relied on one faculty advisor, which did not prove to be a feasible option for a long-term project. Last fall, CMD professor Janis Chakars teamed up with fellow CDM professor Joe Glass and Steve Bell, director of media relations, to become NeuPress advisors and began recruiting students.
Today there is a team of six student writers, Tracy Nguyen, Marcella Maughan, Danica Pedone, Erin Donovan, Allison Poppiti, and Tyla Hunter, working on bi-monthly publications of NeuPress. Eight other students have contributed single articles. The first issue was published in October 2022.
Published stories have included Neumann University events such as "Story time with Santa is a hit," to sports stories like "Softball team goes the extra mile for the Philly Marathon," to op-ed pieces called "Are we becoming desensitized to tragedy?"
Chakars is proud to brag that NeuPress scooped the Delaware County Daily Times with a story about nursing burnout. "That story was written by a freshman, and it was terrific," he said.
Tracy Nguyen, a pre-pharmacy major, wrote the story and appreciates the opportunities NeuPress offers student writers.
"Having students research, report, and publish their own articles allow(s) students to voice their opinions and report on issues that they find relevant. I think having a student-run publication also creates a greater creative space for students," she said.
Tyla Hunter has not decided on a major but enjoys writing for NeuPress and experiencing journalistic work.
"NeuPress has allowed me to rediscover my love for writing," she said. "It can be an outlet (for) students who are looking for a positive hobby to turn to. It gives them a chance to express themselves and find something that they are passionate about and write it. Everyone is supportive, and they are attentive and actually listen to your ideas. Which, I think, is significant for a news publication."
Fellow NeuPress reporter Erin Donovan agrees with Hunter and said, "I think it is essential for there to be a student-run publication like NeuPress because it gives students an outlet to share their creativity and the opportunity to write unique stories that may not be found in major publications."
Chakars has experience with student-run newspapers. He was the faculty advisor of the University of North Carolina Wilmington school paper. He believes that student journalism suits the purpose of a university by pursuing the quest for truth and discovering new truths.
"Spreading those truths, sharing those truths, articulating those truths, and verifying those truths are all things that journalism does," he explained.
While NeuPress is in its infancy stage, Chakars is fully prepared to grow the digital newspaper and increase student participation.
"I want to see more people get involved. I tell students I'll take commitments at any level. I want to be that force that scoops the Daily Times and is useful to an even wider community," Chakars said.