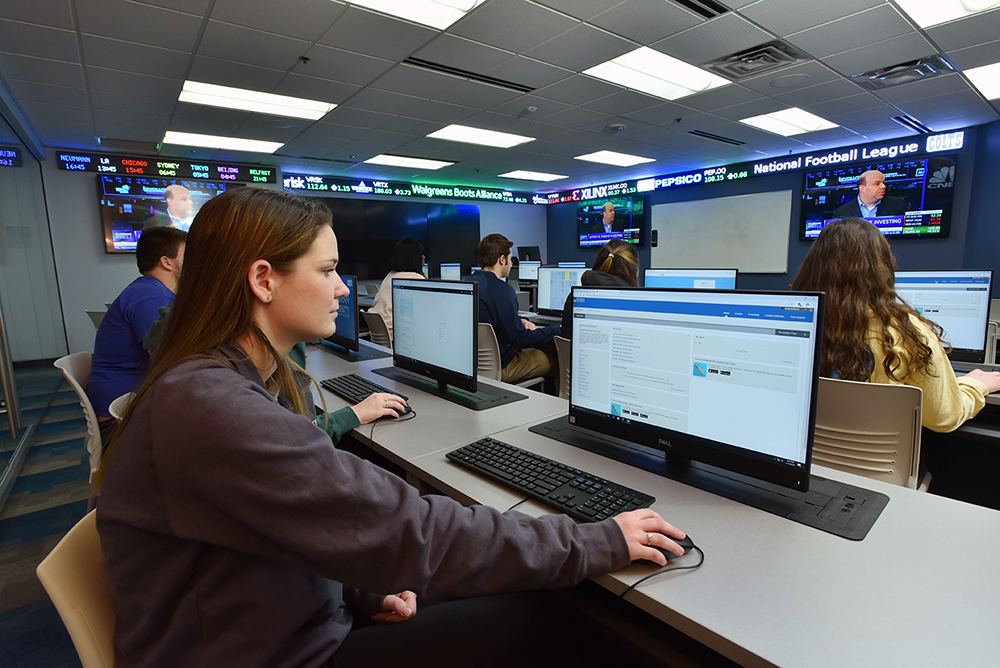 On January 9, 2019, Neumann launched its first ever Data Analytics Lab on the third floor of the Rocco Abessinio Building. The brand-new Data Analytics Lab features state-of-the-art technology, which will be the focal point for the two new degree programs that Neumann will be launching in fall 2019: Data Science Analytics and Cyber Security.
The Data Analytics Lab comprises of 28 new pods of computers that rise with just the click of a button. The lab also features six flat screen TV's that display stock information and three 75-inch monitors, both of which are already enhancing the learning experience for Neumann's Business students.
"I really like the new Data Analytics Lab. I don't need to lug around my laptop anymore because the computers pop right up out of the desks," said Richard, a Business Administration major.
The Data Analytics Lab also features a live stock-market ticker which will be useful to students entering Neumann's Data Science and Analytics major. These students will learn computer programming, database systems management, and data analysis.
"The stock market ticker is really cool. We learn about stocks in class, so it's interesting to see how the numbers actually change from day to day," said Clayton, who is studying International Business.
The Data Analytics Lab also consists of a server lab that Cybersecurity majors will be able to use for hacking simulations. Students entering Neumann's Cybersecurity major will be provided with a background in network security, operating systems, cryptography, incident response, secure programming, vulnerability analysis, social engineering, as well as governance and risk assessment.