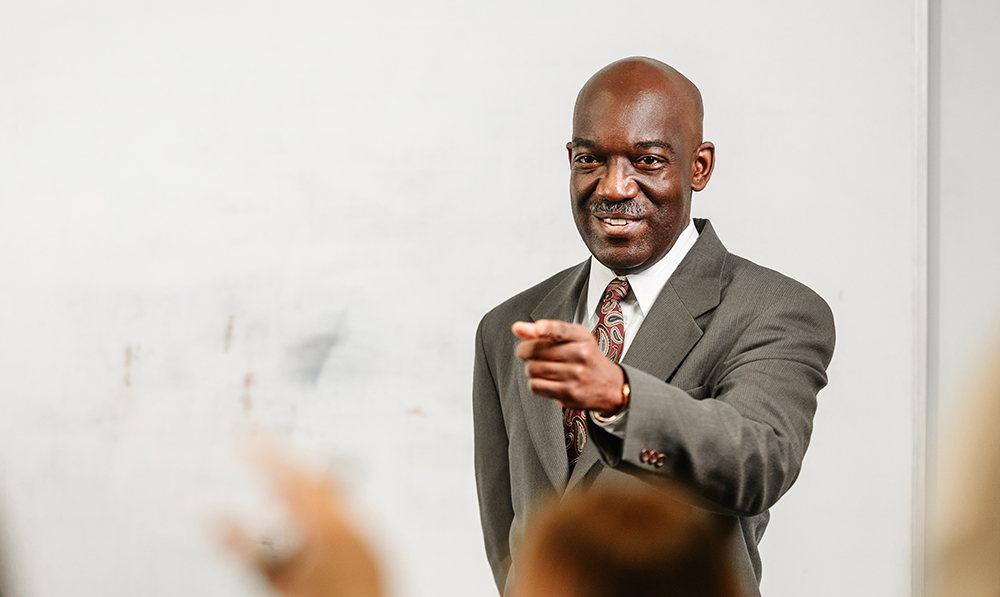 Dr. Nathan Hardy will teach Neumann's first diversity-focused business course in the spring, Black Americans in Business and Society (BUS 220).
"Students will study Black history, leaders, culture, social justice, ethics, civil rights, and the resilience and creativity of business leaders to succeed against the odds," Hardy explains. "Students will learn about positive race relations, how to promote them, and how to advocate for a cause."
Reading material includes "White Fragility," an essay by Robin DiAngelo, author of the New York Times best-selling book, White Fragility: Why It's So Hard for White People to Talk About Racism, and The Silver Trumpet of Freedom: Black Emancipators & Entrepreneurs by L.W. Reed, president emeritus of the Foundation for Economic Education. Students will also discuss the PBS documentary, Boss: The Black Experience in Business.
Hardy has been working on this course since June. "In the wake of the social justice protests of the time and the resultant Neumann University town hall on racism held on June 8, students of multiple races expressed interests in having a course or program that covers Black history, culture, ethics, diversity promotion, and safe discussions on related current events," he notes.
"I have been researching Black business leaders since winter 2019 for a campus presentation. With the significant overlap between the societal and business topics, I merged them together into a single course."
He has found relatively few business courses about Blacks at other colleges across the nation. "Yet students of all races and majors can learn from the perseverance and ingenuity of Black business leaders to succeed despite the obstacles they had to manage and societal policies that made doing business difficult. Anyone can benefit from studying the many rags-to-riches stories of these historical figures and their outside-the-box thinking to solve problems."
Neumann's Core curriculum requires that all students take one three-credit, diversity-certified course before they graduate. Black Americans in Business and Society is the only such course offered by the School of Business and one of eight available at the university. Other diversity-certified courses are available in criminal justice, English (2), music, psychology, sociology, and social work.
BUS 220 also satisfies the School of Business major requirement for a business 200+ level elective course.
According to Sr. Pat Hutchison, director of the Neumann Institute for Franciscan Studies, a focus on diversity and cultural awareness "directly supports Neumann's RISES values, especially Reverence." The Middle States Commission on Higher Education and the Association of Catholic Colleges and Universities also support building intercultural competence through curricular content.
Neumann's diversity courses are certified by a sub-group of the Core committee. "We developed an application, and two committee members and I review every application," explains Sr. Pat. "In addition, the faculty member participates in approved diversity workshops."