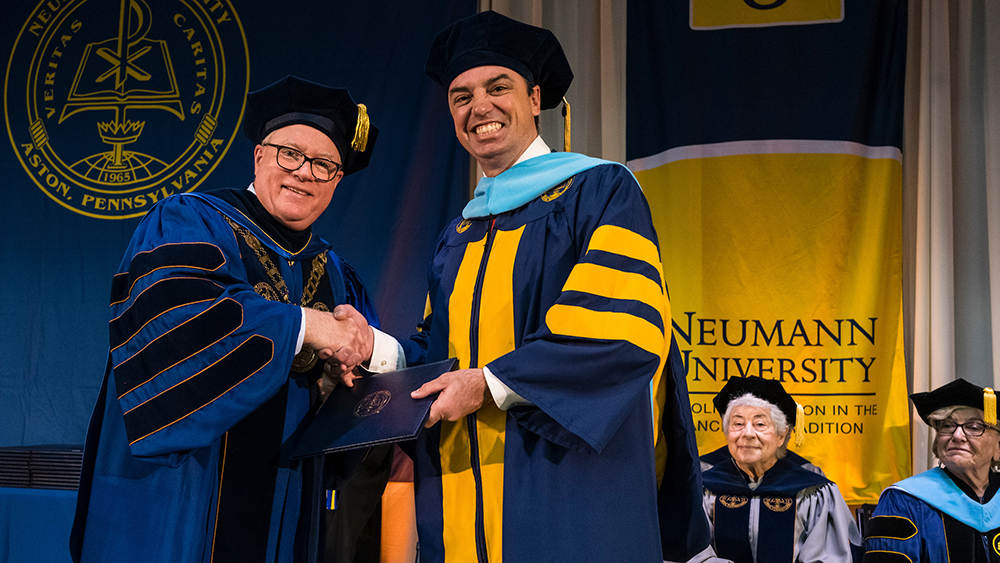 Employees of 18 local organizations and their immediate family members now have a path to a more affordable graduate degree thanks to a partnership with Neumann.
The agreement offers Neumann's industry partners a 20 percent graduate tuition scholarship, the opportunity for academic credentials and professional growth, and a benefit that creates an attractive work environment.
Current partners include Aqua America, Bayada Home Health Care, the City of Philadelphia, the Diocese of Wilmington, Eden Autism Services, Interboro School District, Melmark Pennsylvania, Sun East Federal Credit Union, the Visiting Nurse Association Health Group, and more.
Bet Rosa, chief human resources officer at VNA Health Group, is optimistic about the agreement. "We are thrilled to form partnerships like this with Neumann University – at VNAHG a foundation of our culture is continuous learning, and we are always looking for ways to provide better education resources for our staff that are easily accessible and affordable."
Lindsey Dunn, senior director of human resources at Melmark, agrees. "In partnering with Neumann University, Melmark is proud to offer discounted tuition benefits to our employees interested in becoming certified teachers," she says. "This partnership supports our mission and aims to address a long-standing national teacher shortage by providing support, access and discounts to our mission-driven staff interested in a graduate education degree program that is affordable and convenient."
Available master's degree programs at Neumann include Accounting, Athletic Training, Business and Organizational Leadership, Clinical Mental Health Counseling, Cybersecurity, Education, Forensic Psychology, Medical Laboratory Science, Nursing, and Sport Business.
"These partnerships will provide numerous opportunities for employees and their immediate family members to earn graduate degrees and enhance their professional talents and credentials," said Dr. Chris Domes, Neumann's president. "Relationships like this one strengthen the organizations and the communities they serve."
Learn more about the partnerships and see the full list of partners.