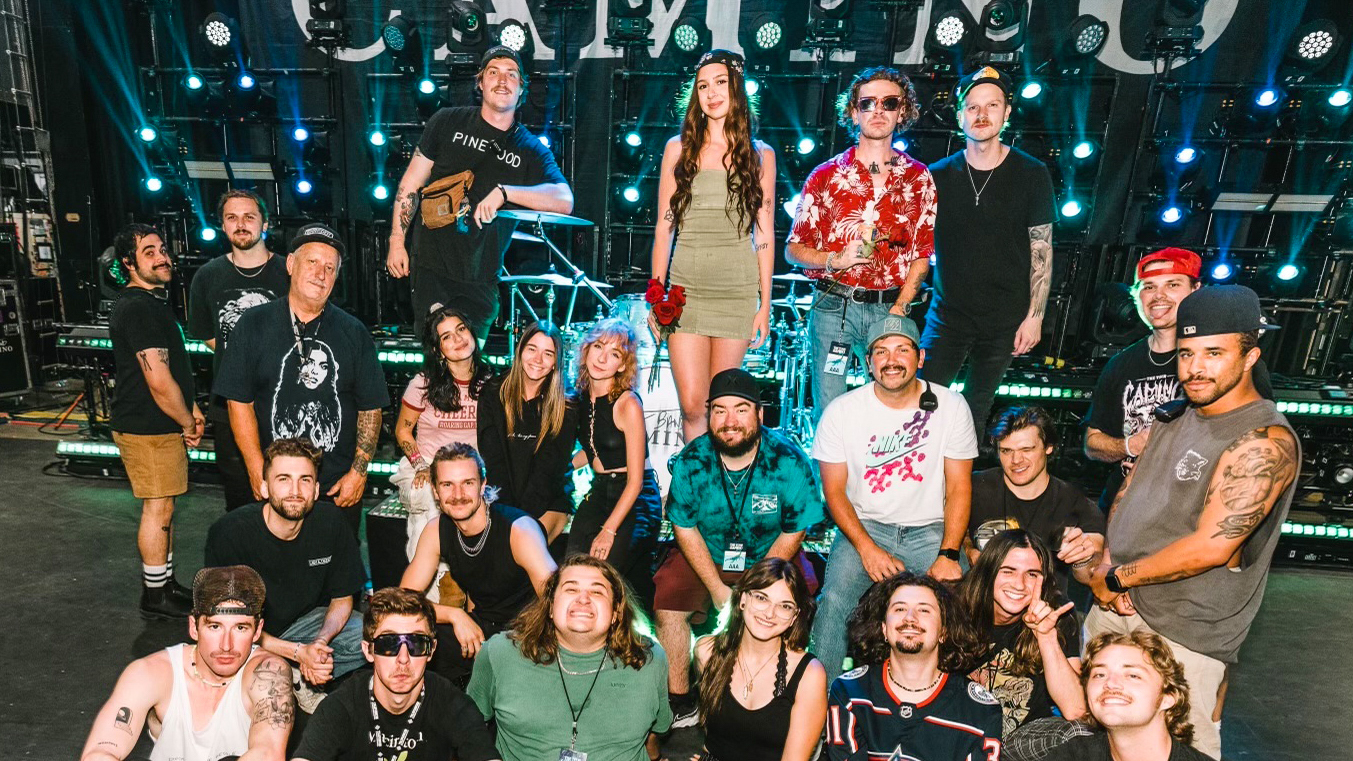 "I don't wanna live my life on the internet … I need something real," sings Lauren Isenberg, the artist known as Renforshort, in her song, Virtual Reality. Elizabeth Cavaliere, a 2022 graduate and recent member of the singer's road crew, couldn't agree more.
After a spring internship with Isenberg's manager, Cavaliere jumped at the chance to be part of the singer's troupe during a grueling tour that stretched from Tulsa, Oklahoma, to Toronto, Canada. The band played 17 shows in 24 days in June, also hitting towns in Nebraska, Missouri, Ohio, Arkansas, Virginia, New Jersey, New York, and Connecticut.
"It was crazy," Cavaliere recalls. "I'd wake up in a new town every day."
A Communication and Digital Media major, she signed on as the merchandise manager for Renforshort and eventually got to use her CDM skills, assisting with the production of a video that captured the singer's live performance.
"I was in the CDM production track, so I took courses in video and audio production. One night the photographer had to film a live video, so I got to help and literally apply the knowledge I learned. I knew all the terminology. Later, I emailed my film teacher, Kerry Hustwit, to let her know."
Cavaliere has always wanted to work in the music industry but admits that the prospect of her first tour induced some anxiety. "It was scary at first because I was flying alone to a state I had never been to, meeting complete strangers. But I loved it. It was the most incredible experience to wake up every day in new cities, go to new restaurants, get to see what you can, and see the audiences in different places."
During the shows, Cavaliere worked the merchandise booth, selling t-shirts, crew necks, and hoodies. "If you're looking to support artists," she explains, "buy the merch. They get most of the proceeds from it."
She landed the pre-tour internship through sheer determination. "With no regrets, I sent a lot of cold emails in the fall to managers. I actually connected with Lauren's manager, who was looking for an intern to eventually go on the road, through an Instagram direct message."
Renforshort opened for The Band Camino, and both groups have a strong following in the 18-24 demographic. With few exceptions, notes Cavaliere, the road crews for both bands were under 30, too.
The website for Renforshort describes her music as "tastefully weird ... deeply reflective, left-of-center alt-pop" and cites Bob Dylan and Amy Winehouse as her musical inspirations. She first earned digital fame in 2019 with Mind Games, "a twisted love song that went viral because of its edgy tone, catchy hook, and Tim Burton-inspired video."
Recording for Interscope Records ("a huge label" says Cavaliere), the Canadian-born singer addresses themes of young love, anxiety, restlessness, and self-image in her music. She was on tour to gain new fans and promote her two EPs: Teenage Angst and Off Saint Dominique.
Cavaliere plans to join Isenberg again soon. "Ren has a headline tour in the fall, so I'm gonna jump on and go back on the road with her for another month. She's a 20-year-old, so we get along really well." Cavaliere is 22.
Renforshort also has a European tour scheduled in November, and Cavaliere hopes to accompany the singer during performances in France, the UK, Netherlands, and Germany.
And why not? As Isenberg writes in her lyrics, it's more real than living life on the internet.