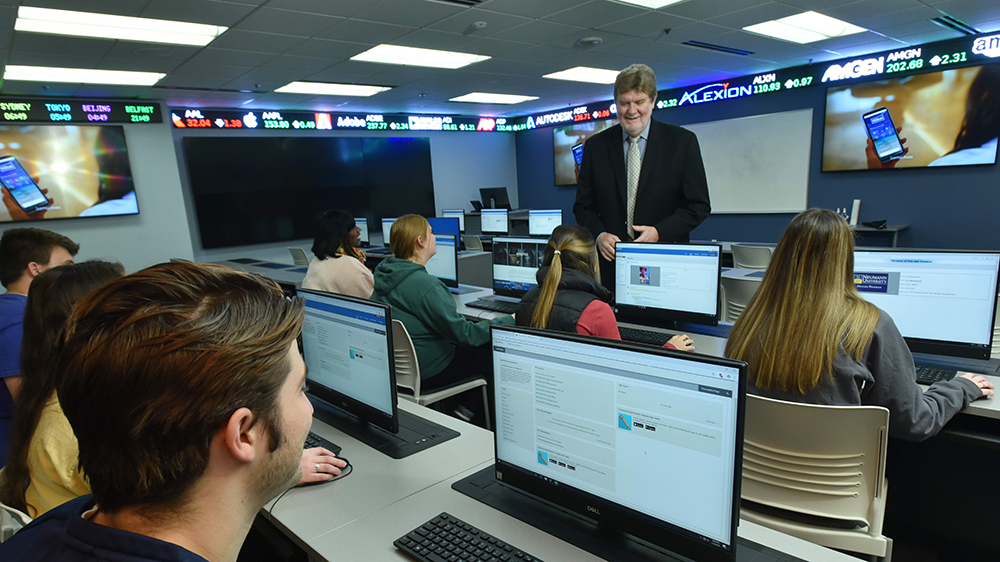 According to Cybersecurity Ventures, there are over 3.5 million unfilled cyber jobs in the international marketplace. This staggering statistic was one of the impetuses for the creation of Neumann University's newest master's program. The MS in Cybersecurity will launch in the fall.
According to Privacy Rights Clearinghouse, another shocking statistic is that 1.3 billion records containing sensitive data were breached in 2021. Hence the dire need for more trained professionals in the cybersecurity field.
Dr. Tom Dodds, associate professor of computer science and director of the master's program in Cybersecurity, is aware of the numerous other institutions offering this master's degree. However, what distinguishes Neumann's program from the competition is real-world scenarios that students will be exposed to.
Students build their skills using real-world hacking lab scenarios and simulations. The program is guided by Dodds, who used to work at Microsoft as an architectural consultant, the highest-level consultant at the corporation.
Dodds said Neumann's program helps students "obtain the advanced, hands-on expertise required to succeed in today's Security Operations Centers." Another critical component of the program is the cyberlearning platform students will use, which is called Circadence.
Circadence presents students with 20 different scenarios that they work through themselves. This program is very lab-based and gives students the tools to navigate the cybersecurity world. ​​​​​​​
The Cybersecurity program requires 30 credits and can be completed in two years or less, offered via online, in-class, and hybrid formats to accommodate working professionals. Students will master skills by using real-world hacking lab scenarios and simulations in NU's state-of-art student data center, which provides access to the latest server and infrastructure technologies.
"One thing we learned in the undergraduate program is that the key to having a really good cyber program is to have a really good lab, and we do," Dodds said. "We think that a lab-based approach makes a difference. Students learn hands-on skills."
The master's in Cybersecurity will allow graduates to pursue various careers such as chief information security officer, computer network architect, penetration tester, and IT auditor, among numerous other options.
The curricula and material in this master's program provide the skills required to pass advanced certification exams, such as the Certified Ethical Hacker (CEH), the Systems Security Certified Practitioner (SSCP), and the Certified Information Security Manager (CISM) exams.
Students enrolled in the master's degree in Cybersecurity may choose one of two different specialized tracks: Managing Information Systems Security and Cyber System Engineering.
Dodds expects this master's program to attract a mix of students – recent graduates and those already working in the industry. The program concludes with a capstone presentation.