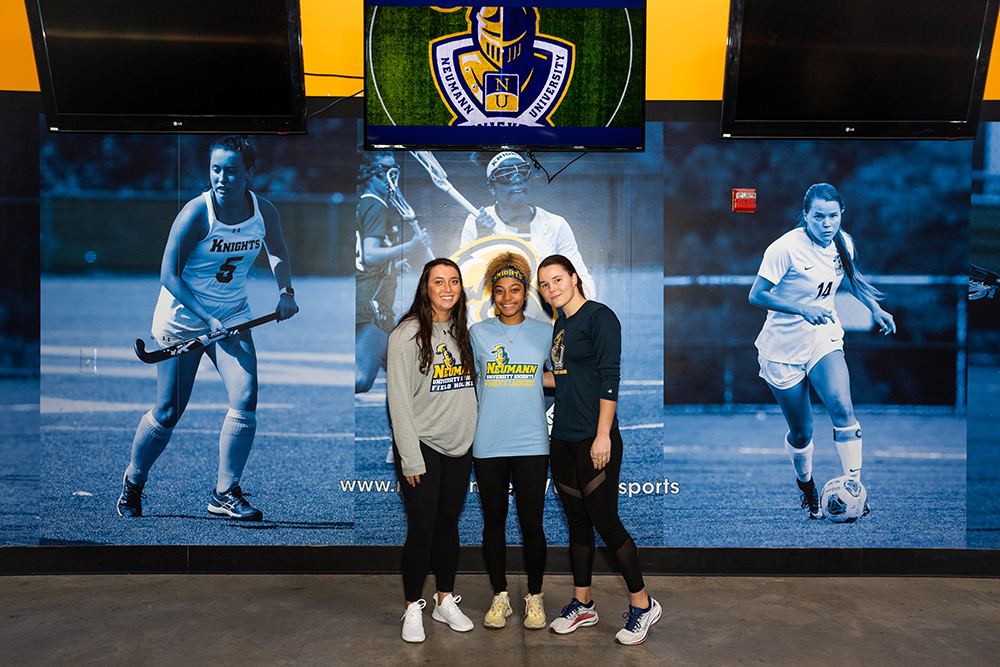 Neumann University breakdowns the Xs and Os of DIII Athletics
There is plenty that comes with being a Division III student-athlete.
But before the training, the practices and the games comes something else.
Passion.
A love of the game. A desire to compete with intensity – and win. A commitment to growth as an athlete, a student, and a professional.
THE STUDENT IN THE ATHLETE
Make no mistake about it: Division III athletes are fueled by pure love for the game. But they are also fueled by something more.

Ariana Pena, a Neumann University senior and volleyball standout, has dreams of becoming a physical therapist.

Kyle Pantalone, a Neumann University senior and men's ice hockey standout, is focused on breaking into the business world.
Lizzie Frame, a Neumann University junior and field hockey standout, has a goal of becoming an educator.

The beauty of Division III athletics is such that Ariana, Kyle, and Lizzie can balance their commitments to the sports they love, while remaining equally committed to their academics and professional pursuits.

"We are students before we are athletes," said Lizzie.
The understanding that these athletes will "go pro" in something other than sports frames the ecosystem of support built around them.

At Neumann, that system of support includes academic coaches who are deeply invested in students' academic success. There is also a very intentional focus on mental health and overall health and well-being.

"We (Neumann) are wholly focused on the development of the person," said Chuck Sack, who serves as Neumann University's Athletic Director.
But that does not mean athletes and their teams are leaving their competitive spirit behind if they miss a practice to focus on themselves or their studies. In fact, it is quite the opposite.

Student-athletes take pride in who they are and how they play.
"We play for us," said Ariana. "Everyone shares the same fire and energy, and the competition is strong."

And the cheers and adulation? They come from fans who care.
"Neumann is not too far from my home," said Kyle. "Parents, friends, and family being able to attend my games is something special that I'll remember forever."
"Fans are part of the magic of our athletic program," said Sack. When Neumann's men's basketball team played for the Atlantic East Conference Championship this past February, two busloads of students traveled to cheer the team to victory.

While Division III does not permit athletics scholarships, roughly 80 percent of Division III student-athletes nationwide receive some form of academic grants or need-based scholarships. At Neumann, that statistic lands at 100 percent.
Ultimately, at the end of the season or at the end of four years, playing Division III sports boils down to one thing: giving 100 percent both on the field of play and in the classroom.
"As a senior," said Ariana, "I am proud to say, I gave volleyball and academics my all. I am ready for what's next."


Neumann Athletics Fast Facts:
23 NCAA Division II Teams
Over 300 Varsity Athletes
190 All-Academic All-Conference Student-Athletes